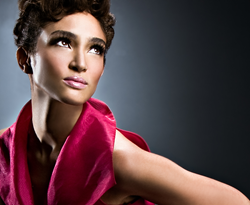 The Style Show truly reflects Northwood's focus on free-enterprise, entrepreneurial education and allows our students to put the concepts they learn in the classroom to practical work.
Midland, Michigan (PRWEB) March 27, 2014
From the driving beat of Kanye West's latest hits to the softer, pop stylings of Taylor Swift, guests at the 13th Annual Northwood University Style Show will celebrate music's influence on fashion and how it drives moods, milestones and moments in time April 4 at 8 p.m. in the Hach Student Life Center at Northwood's Midland campus located at 4000 Whiting Drive, Midland, Michigan 48640; gala reception to immediately follow. This year, Northwood University welcomes celebrity guest and Detroit native, America's Next Top Model Naima Mora. Mora will discuss the importance of mastering the business fundamentals of the fashion industry and the diverse career choices the field offers with Northwood University's students as well as the public in a free event at 10 a.m. in the Helen Gerace Auditorium in the Bennett Sports Center.
Runway Rhythm, an extracurricular effort, is completely constructed by the student executive board, which consists of 18 students from diverse majors at Northwood University. Through high-end staging and creative use of music, clothing and accessories, the attendees will be transported through a rhythmic journey of style. Runway Rhythm will feature the talents of student designers, as well as many unique fashions from stores throughout eastern and mid-Michigan. The event requires the talents of more than 120 students in total, including the executive board, 60 runway models and those in technical and support positions.
"The Northwood University Style Show relies completely on the effort of our students to become a reality. These students will start planning the next show almost immediately after this year's show ends and spend nearly a year building the new event from the ground up," notes Jill Ouellette, chair of the university's Fashion Marketing & Management program and advisor to the executive board.
"All of this work is done outside of the classroom, and the students receive no class credit or pay for their efforts. It's a labor of love that draws in not only students majoring in our Fashion Marketing & Management program, but also from other academic areas throughout the University," Ouellette adds. "The Style Show truly reflects Northwood's focus on free-enterprise, entrepreneurial education and allows our students to put the concepts they learn in the classroom to practical work."
High school juniors and seniors are invited to participate in a special Fashion Day program, beginning at 12 p.m. Sponsored by Northwood University Admissions this Fashion Day event introduces high school students to industry and Style Show leaders, provides a behind-the-scenes tour and includes a personal visit with Mora. Reservations are required and can be secured by visiting http://www.northwood.edu/admissions.
Attendance at the annual Northwood University's Style Show in recent years has reached close to 300. Tickets to the show and gala event are $30 for individuals, $55 for couples and $15 for children 12 and younger; sponsorship packages also are available. To order tickets, visit http://www.northwood.edu/styleshow show or contact Lisa Moseler at 989.837.4806 or Taylor McKenna at 248.804.7528/mckennat(at)northwood(dot)edu. Valet parking will be offered at the Hach Student Life Center.
ABOUT NORTHWOOD UNIVERSITY
Northwood University is committed to the most personal attention to prepare students for success in their careers and in their communities; it promotes critical thinking skills, personal effectiveness, and the importance of ethics, individual freedom and responsibility.
Private, nonprofit, and accredited, Northwood University specializes in managerial and entrepreneurial education at three full-service, residential campuses located in southern Florida, mid-Michigan and northern Texas. Adult Degree Programs are available in eight states with many course delivery options including online. The DeVos Graduate School offers day, evening and weekend programming in Michigan, Texas and Florida. The Alden B. Dow Center for Creativity and Enterprise provides system-wide expertise in family enterprise, entrepreneurship, creativity and innovation, and new business development. International education is offered through study abroad and in Program Centers in Switzerland, China (Changchun and Wuxi), Malaysia and Sri Lanka.
# # #