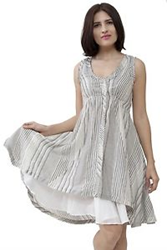 Fabulous Styles in Fashion
(PRWEB) March 27, 2014
Dresses and women's tops are in huge demand and no one is offering a better selection than the Fab Dress Wear eBay store. There's really something for everyone, but all with an eye to fashion and style that has been making Fab Dress Wear the easy choice to shop at for more women every day.
A spokesperson for Fab Dress Wear commented, "We really put thought into each and every dress, shirt and other piece of women's clothes we stock and add more inventory of new selections on monthly bases. Our goal is for every one of our customers to be happy with their purchase and know they can trust us enough to come back for more!"
The store is stocked with an awesome selection of dresses, tops and bottoms for every situation. From a day at work at the office, to dinner out or to a hot night at the club there's something special that will work perfectly to pick from. Some choices are even great, depending on what they're worn with and how they are accessorized, with being worn casually or dressed up alike. More proof Fab Dress Wear takes their motto of "fabulous styles in fashion" very seriously and picks what they stock with care.
With the recent change in season and warmer days approaching fast there's no better time for a woman to refresh her wardrobe and make sure that she's ready to bring in spring in style. The store is certainly ready and you can see the new choices are perfectly geared for the spring spirit and all the fun that comes along with it.
Ordering from Fab Dress Wear is never a hassle. With perfect feedback from their customers it's clear they have built a reputation for not only selling great women's clothes, but also for excellent customer service.
Emily Davis, a customer of the company from Boston, said, "I ordered a form fitting strapless dress from Fab Dress Wear to have something fresh and new to go out with the girls in. The price was awesome and the dress looked even better than I expected when it arrived, much sooner than I expected. I think the best part was how I had a question and it was answered politely within a couple of hours. I'll be shopping from the store again soon."
All eBay stores are backed by eBay's robust customer protection policies and this store is no exception. Ordering the latest in fashion dresses, women's tops and more can be done with total confidence that Fab Dress Wear is going to make sure your experience exceeds your expectations.
To find the perfect choice in fabulous women's fashion check out Fab Dress Wear's selection today.
For more information visit the store at http://stores.ebay.com/fabdresswear