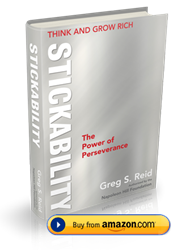 Most great people have attained their greatest success just one step beyond their greatest setback and failure - Napoleon Hill
San Diego, CA (PRWEB) March 27, 2014
Napoleon Hill once said, "Most great people have attained their greatest success just one step beyond their greatest setback and failure." That idea is at the heart of Greg S. Reid's most recent book, Stickability, which is now available at Amazon.com.
The April 1st launch of his newest book is no joke, and it's followed closely by the launch of the Stickability app—a companion to the book featuring personalized meditations, music, and powerful success-oriented affirmations.
Whether it's building a business, training for a marathon, or writing a novel, every pursuit has its obstacles. Dealing with those obstacles and continuing onward in the face of adversity is how great things are achieved. Stickability is a fresh look at the ways that great men and women have stuck with their dreams, no matter the odds against them, and how anyone can apply their lessons to their own lives for increased health, wealth, and happiness
To produce Stickability, Greg has teamed up once again with the Napoleon Hill Foundation, a non-profit educational institution dedicated to making the world a better place through the insights of legendary American author, biographer, and success expert Napoleon Hill. Hill was the author of the seminal self-help classic Think and Grow Rich.
Reid has continued Hill's work, featuring stories of the great men and women of our era and analyzing what exactly gives them the strength to keep going when things are looking grim. Stickability is packed with things like:

Stories, personal interviews, and lessons learned from people like Steve Wozniak, Frank Shankwitz (founder of the Make A Wish Foundation), Martin Cooper, and Gene Landrum (founder of Chuck E. Cheese)
Napoleon Hill's "The Three Causes Of Failure," a piece by the beloved author that has never before been released to the public
"The Six Ghosts Of Fear," or the six biggest reasons that people give up (and how to conquer them)
How to seize your own "defining moments" when they appear
Relaxed intensity and how to harness it even when things are falling apar
And finally:

A definitive road map to overcome your fears and build your own "stickability."
What Others Are Saying About Stickability
"Another great release from the Napoleon Hill Foundation—outstanding!" Mike Helton, president of NASCAR
"Every patriotic, free-enterprising American must read, absorb, and use this timely wisdom." Mark Victor Hansen, co-creator of Chicken Soup for the Soul
"STICKABILITY is an inspiring read, and I recommend it highly." Dave Liniger, co-founder of RE/MAX
"Keep this book on your nightstand and read it daily." Bob Proctor, founder of Life Success
"This book reminds us that with a Positive Mental Attitude, all things are possible."
Jim Oleson, President of The Napoleon Hill Foundation
"Fans of Hill's model will find inspiration in the exhortations to fight entropy, overcome fear, have faith, and innovate." Publishers Weekly review (Publishers Weekly)
About The Author
Greg S. Reid is the master storyteller of the business world. As a best-selling author, electrifying speaker, and acclaimed filmmaker, Reid has been published in more than 45 books, included in 5 films, and quoted in countless magazines. His works have taught tens of thousands of entrepreneurs, businesspeople, and executives around the world how to dream big—and how to make those dreams come true! Reid's longtime association with the Napoleon Hill Foundation has produced three books: Stickability, Three Feet From Gold, and Road To Riches. Connect with Greg here:
Website: http://www.bookgreg.com
Facebook: https://www.facebook.com/gregsfanpage
Twitter: https://twitter.com/GregReid
A portion of the proceeds from Stickability go to support the Napoleon Hill Foundation. For more information go to http://www.Stick-ability.com or contact Sheila Stewart at 303-378-2022 (c) 320.593.4413 or SStewart(at)SheilaStewartPR(dot)com.