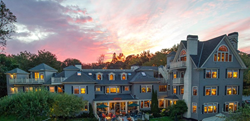 We couldn't be happier with the new site and our guests are loving it too!
Bar Harbor, ME (PRWEB) April 02, 2014
The Balance Rock Inn is proud to announce the launch of its all new website. Taking advantage of this Bar Harbor inn's photogenic nature, the site is designed around breathtaking images, selected to showcase its romantic ambiance.
By building the site using responsive design technology, the need for separate mobile and tablet sites has been eliminated, providing a similar user experience across all platforms, and allowing for single dashboard management.
In creating the website, Hotel Internet Strategies worked closely with the client to ensure that we not only captured the beauty and feel of the hotel, but that we also told the story of a hotel that has come to be a Bar Harbor landmark, well-known for its luxury appointments and service.
"Working with Hotel Internet Strategies has really made transitioning to a new website seamless. They were great with getting to know the Balance Rock Inn and helping us to convey to travelers the feeling and atmosphere of the hotel. We couldn't be happier with the new site and our guests are loving it too!" - Claire Conlon, General Manager
"We're extremely excited and honored to partner with the Balance Rock Inn," says Frank Sweeney, Director of Operations at Hotel Internet Strategies. "The new site not only enhances the incredible charm and appeal of the hotel, but also provides them with an up to date marketing platform."
About the Balance Rock Inn
The Balance Rock Inn was built in 1903 as a summer cottage for Scottish railroad tycoon Alexander Maitland and his family. The original home is lovingly preserved as the elegant Balance Rock Inn, named for the "balance rock," a rare geological formation which seemingly defies gravity by balancing on a slender stone fulcrum just off the scenic Shore Path. Balance Rock Inn truly preserves the splendor of the Gilded Age, combining the luxury and romantic ambiance of days gone by with staff's warm, caring and unobtrusive dedication to guest comfort. You'll want to return over and over again.