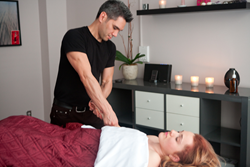 'I believe that massage therapy is a harmonious combination of art and science that can help people live healthier and happier lives,' said Rob Gonzalez, CityTouch Licensed Massage Therapy Founder.
New York, NY (PRWEB) March 29, 2014
Introducing CityTouch Licensed Massage Therapy PLLC, a small, personal and private massage therapy practice offering therapeutic massage services with a hint of spa luxury. Founded in February 2014, CityTouch Licensed Massage Therapy is owned by licensed massage therapist Rob Gonzalez and offers a number of services, including an NYC deep tissue massage. As part of the company's launch, CityTouch Licensed Massage Therapy will be participating in Spa Week offering $50 Personalized Massage or Reflexology treatments. To redeem Spa Week deal, simply book your appointment online.
After working as a massage therapist at high-end spas such as The Setai Wall Street and Deva Spa in New York City for eight years, Rob decided to form his own practice that would combine elements of an exclusive spa with the tailored, relaxed and personalized environment that private practices offer.
CityTouch Licensed Massage Therapy will offer the following services:
CityDetox&#8480 Restorative Body Treatment: CityTouch's signature treatment restores and rejuvenates the body through a series of steps that specifically target troubled areas typical of city dwellers such as work related stress and especially hangovers. This 90-minute body treatment begins with a light dry brush exfoliation scrub designed to support the lymphatic system (the body's waste management system) while also stimulating circulation and removing dead skin cells. Next, Swedish massage using German Chamomile and grapefruit essential oil encourages the elimination of metabolic waste, uplifts fatigue and rehydrates skin. A warm castor oil pack placed over the abdomen supports liver function while the therapist works reflexology detoxification points on the feet and hands. Finally, the session ends with a peppermint oil cranial, neck and shoulder massage to clear and invigorate the mind. Clients leave detoxified, refreshed and ready to hit the city streets. Price: $199
Personalized Massage: This personalized massage session is customized to each client's individual needs. From muscle-specific deep tissue to a relaxing traditional Swedish massage, City Touch Massage therapists work with each client to create the best experience for clients based on their individual goals. Price: $120-$220
Prenatal Massage: Prenatal massage is an excellent way for expectant mothers to relax and release the tensions that inevitably develop in their changing bodies. Prenatal sessions are done side-lying with a supportive grouping of pillows. $130-$180
Reflexology: CityTouch Licensed Massage Therapy's reflexology sessions begin with tea tree and lavender hot towel compresses that are applied to the feet or hands to refresh and soothe aching muscles. The therapist engages reflex points with hand and finger pressure to specific zones in the body, which helps balance the body to encourage self-healing and regenerative abilities. Price: $99
Couples Massage: An NYC couples massages with just the right setting and vibe in a small, private setting can be a tough treatment to find! The couples massage allows two people to share the restorative experience of massage side by side in the same treatment room. Price: $260-$360
City Touch Licensed Massage Therapy is located at 242 West 27th Street (between 7th and 8th Avenues), Suite 4B in the Chelsea neighborhood of Manhattan. For more information or to book your appointment online please visit CityTouch Licensed Massage Therapy or call (917) 562-2285.