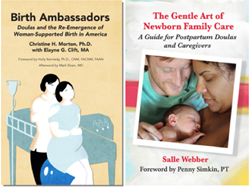 Continuous labor support, including support provided by doulas, is one of the most effective ways to decrease the cesarean rate.
Amarillo, Texas (PRWEB) March 29, 2014
March 22-28, 2014 is recognized as World Doula Week, chosen for celebration in the Spring because of the countless cultures that recognize it as the season where fertility returns. World Doula Week is a chance to honor, note, and bring to light a profession in the birth community which repeatedly answers the call of new mothers. Praeclarus Press recognizes the value of the profession, specifically with regard to birth doulas and postpartum doulas.
Doulas are part of the framework that comprises the midwifery model of care, which views birth as a normal, not pathological event, and where the rates of interventions, such as epidurals and cesarean sections, tend to be lower. Midwifery care is not available to the majority of American women, but hiring a doula can provide many of the same advantages, especially at a time when the rates of cesarean sections are at an all-time high. In February 2014, the American College of Obstetricians and Gynecologists and the Society for Maternal-Fetal Medicine issued a joint Obstetric Care Consensus statement: Safe Prevention of the Primary Cesarean Delivery. Much to the delight of practicing doulas everywhere, the support that they offer during labor was specifically mentioned in this highly-regarded statement as a way to reduce a birthing woman's chances of cesarean section.
Whether we are looking at doulas from the perspective of Christine Morton and Elayne Clift in their book, Birth Ambassadors: Doulas and the Re-Emergence of Woman-Supported Birth in America, or through the lens of Salle Webber a postpartum doula with over 30 years experience in her book The Gentle Art of Newborn Family Care, what we see is a real need for women to have additional labor support as they become mothers. And then a continuation of that support model as families emerge from the birth experience.
Salle Webber has been serving families as a professional postpartum doula in Santa Cruz, California since 1988, and has been a teacher of the gentle art of caring for families with newborns. She is known for her wisdom, humor, and tender touch with babies and mothers.
Christine H. Morton, PhD is a research sociologist whose research has focused on women's reproductive experiences and maternity care roles. Since 2008, she has been at Stanford University's California Maternal Quality Care Collaborative, where she conducts research on maternal mortality and morbidity. Elayne G. Clift, MA is a writer, journalist, and Humanities adjunct professor. She has worked internationally as a health communications and gender specialist, and is an educator/advocate on maternal and child health issues. A volunteer doula and Vermont Humanities Council Scholar, she has edited anthologies and published fiction and poetry collections, a novel, and a memoir.
Praeclarus Press is a small press founded by Dr. Kathleen Kendall-Tackett and specializing in women's health. It features books, webinars, and products that support women's health throughout their lifespan. Praeclarus Press is based in Amarillo, Texas, USA.