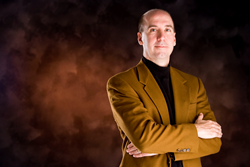 We are now just in the early days of the Internet of Things and as it matures its new capabilities will be astonishing.
San Francisco, CA (PRWEB) March 27, 2014
Described as an extremely knowledgeable and masterful facilitator, noted futurist, Jack Uldrich's latest topic is the "10 Unexpected Ways the Internet of Things will Open a Future of Opportunity."
Uldrich, whose recent article in Forbes magazine, 10 Game-Changing Technological Trends Transforming Tomorrow touched on subjects such as MOOCs, wearable technologies, and cryptocurrency, is now exploring the possibilities of the Internet of Things.
Uldrich loosely defines the Internet of Things (IoT) as, "the connection of billions of physical objects to the Internet, through the use of low-cost sensors." And he posits that the impact of the IoT, whether we choose to embrace it's technology or not, will be vast.
A few of Uldrich's potential scenarios of the IoT include a world where entrepreneurial fitness coaches utilize clothing embedded with sensors to keep patrons physically engaged and motivated throughout the day; automobiles and smart phones embedded to help connect people wanting to ride share; smart home thermostats that will lower your heat to help save you money; and sprinkler sensors that tell you when and how much to water your lawn.
A featured commentator on James Woods "Futurescape," and a regular guest on CNBC, MSNBC and CNN, Uldrich delivers keynote addresses nationally and internationally on a variety of topics. He is also the author of several best selling books, including Foresight 20/20: A Futurist Explores the trends Transforming Tomorrow."
As a writer, he has contributed on emerging technologies and future trends for a number of publications, including The Wall Street Journal, Leader to Leader, The Futurist, BusinessWeek, The Scientist, CityBusiness, The Futures Research Quarterly, and TechStation Central.
Parties interested in learning more about Jack Uldrich, his books, his daily blog or his speaking availability are encouraged to visit his website at: http://www.jumpthecurve.net. Media wishing to know more about the event or interviewing Jack can contact Amy Tomczyk at (651) 343.0660.
Jack Uldrich is a renowned global futurist, popular keynote speaker and bestselling author.