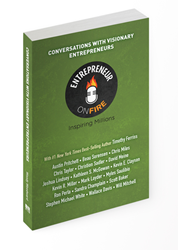 There is fear, trepidation and insecurity when starting a company. Fear and uncertainty fueled my success in that I was compelled into action by my constant fear of failure, thus inspiring me to make things happen.
Salt Lake City, UT (PRWEB) March 27, 2014
The latest edition of "Entrepreneurs On Fire" features inspirational stories from visionary entrepreneurs such as that from Wallace T. Davis, President and CEO of Peopletrail. Peopletrail is a leading provider of employment screening, criminal background checks, tenant screening, drug screening, ATS integration, and corporate security services. A multi-million dollar company that has grown from an entrepreneurial vision to a thriving business providing personalized, accurate and trusted services to the background checks and screening services industry.
Mr. Davis shares in his story how he had taken steps in life to prepare for the opportune moment that he knew he would find. He also shares how personal sacrifice played a role in his journey and how important it has been to maintain a balance in life through a focus on the physical, mental, spiritual, and emotional facets of the human composition, especially during the moments of overwhelming difficulties and feelings of sinking when starting a new company.
"Not all background screening companies are alike." stated Mr. Davis. "So many companies in the background screening business try to enter the space with little critical experience. There are also mergers and acquisitions taking place much to the detriment of the quality provided to the client. We have found our success and built our leadership in the industry by providing accurate and timely reporting to our customers and never forgetting the importance of personalized service and keeping our clients in compliance within each of their unique environments. We pride ourselves on bringing the human touch to every report, management decision, and client relationship."
It is preparation, sacrifice and commitment to excellence that has brought Peopletrail to its leadership in the industry and has built an inspirational entrepreneurial story as shared by Mr. Davis.
Mr. Davis' inspiring entrepreneurial journey can be read along with other visionary entrepreneurs in "Entrepreneur On Fire" by D.U. Publishing. Copies of the book can be purchased at Amazon.com
Customers can get to know the Peopletrail difference and schedule a complimentary consultation by visiting the company's web site at Peopletrail.com or by calling the company directly at 866.223.6623
Peopletrail is a leading provider of custom employment, tenant and drug screening solutions, criminal background checks, ATS integrations, and corporate security services.
As part of the accredited elite, only Peopletrail combines superior customer service through dedicated Account Managers with efficient, state-of-the-art technology integration to deliver on-demand, accurate and timely consumer reporting results. Trusted and respected by government agencies and Fortune 500 to small up-and-coming businesses, Peopletrail provides actionable insight you trust.