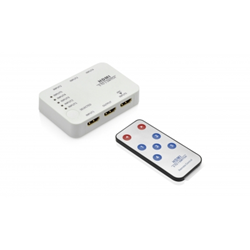 (PRWEB) March 27, 2014
Recently, Hiconn Electronics, a leading company electronics accessory wholesaler from China, has announced its new selection of 5x1 HDMI 1.4b Switches. Additionally, all these switches are provided at greatly discounted prices, up to 32% off. Similar discounts are also provided offered for the company's VGA+R/L Audio to HDMI Converters and VGA+R/L Audio to HDMI Adapters.
The sales manager of the company says, "We are excited to announce our new discounted 5x1 HDMI 1.4b Switches. Our company is a popular electronics accessory supplier in the global market. Each of them is great in terms of quality and performance. They are made from grade-A materials. I think worldwide customers will like them."
Some additional information about the company's 5x1 HDMI 1.4b Switches is as follows:
--Five HDMI 1.4b input signals switched to a single HDMI 1.4b sink devices
--HDCP 1.2 protocol compliance
--Supports deep color 30-bit, 36-bit
--Supports BlueRay 24/50/60fs/HD-DVD/xvYCC
--Supports signal retiming
--Supports input up to 15m AWG26 HDMI 1.3 standard cable length
--Installs in minutes
The reliable company is also offering discounted shipping costs for all people that place an order before April 12. It is worth mentioning that it provides great online service. All old and new clients can contact with its friendly workers if they feel confused about anything.
About Hiconn Electronics
Hiconn Electronics (Shenzhen Hiconn Electronics Co. Ltd.) is devoted to designing and manufacturing a wide range of connection cables and customized cable assemblies, offering many HDMI cables, VGA cables, SATA cables, USB cables, 1394 cables, DVI cables, SCSI (Small Computer System Interface) and more. For more information, please visit http://www.hiconn.net/.
Contact Person: James Yin (Sales Director)
Company Name: Shenzhen Hiconn Electronics Co., Ltd.
Address: Shenghua Building., Xixiang Road., Baoan District, Shenzhen, Guangdong Province, China
Zip Code: 518102
Tel: +86-755-8109 8345
Fax:+86-755-2779 3497