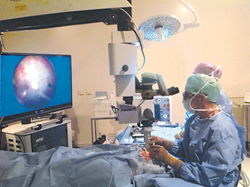 I now routinely use 'heads up' 3D surgery in my retinal and cataract cases. I believe many surgeons will perform ophthalmic surgery this way within five years.
Santa Barbara, CA (PRWEB) March 28, 2014
For the first time in medical history, retinal microsurgery, one of the most challenging of ophthalmic surgeries, was performed live without looking through microscope eyepieces, while being simultaneously streamed in 3D to 1,200 surgeons at the Frankfurt Retina Congress on March 15, 2014.
Prof. Dr. med. Claus Eckardt, a distinguished surgeon and professor of ophthalmology at Klinikum Frankfurt-Höchst, Frankfurt, Germany, performed an intricate procedure to remove a sub-retinal fibrovascular tumor close to the macula and optic nerve while viewing a TrueVision high definition 3D display without using microscope oculars.
Dr. Eckardt used the most recent version of the TrueVision digital system integrated with a Leica ophthalmic microscope. This is evidence of how far TrueVision's digital image quality has advanced relative to traditional optical microscopic visualization. The "heads up" modality allows the surgeon to be more comfortable and may help avoid injury that could shorten their surgical career. Poor ergonomics associated with the neck and back rigidity of using a microscope has proven problematic for many surgeons. Survey show more than 70% of surgeons have neck and back problems by age 55.1
"I now routinely use 'heads up' 3D surgery in my retinal and cataract cases, and I believe many surgeons will perform ophthalmic surgery this way within five years," says Eckardt. "It is remarkable what Leica Microsystems and TrueVision have developed and the speed at which they innovate." Eckardt added, "The implication for digital imaging, beyond the obvious ergonomic benefit, is far reaching. This digital image quality exceeds what is possible with the current optical technology, even at low light levels used in posterior segment procedures. The digital image aids in adding useful information to the surgical field of view including guidance templates for incisions and optimal lens positioning, and other collateral information. This should improve visual outcomes of cataract, cornea, glaucoma, and retina surgical procedures, to name a few."
Forrest Fleming, Chief Executive Officer of TrueVision 3D Surgical, says, "We are very appreciative of Dr. Eckardt's collaboration as we advance the field of computer-guided surgery. It starts with digital image quality being equal to or better than the optical microscope. That's what Dr. Eckardt demonstrated by operating 'heads up' on such a challenging case."
TrueVision® 3D Surgical is the world leader in digital 3D visualization and guidance for microsurgery. Santa Barbara, California-based TrueVision has developed and patented an intelligent, real-time, 3D surgical visualization and computer-guided surgery platform. The system also enables surgeons to record surgery in 3D and to stream live video of the surgical field, making it an unparalleled teaching tool. The company is focused on developing a suite of 3D guidance applications for microsurgery to improve surgical efficiencies and patient outcomes. The system is in use at hundreds of hospitals and institutions around the world. Visit http://www.truevisionsys.com for more information.
(1) ACES Ergonomic Survey, Jay McDonald, MD in 1995 and 1996. Human Reliability Analysis of Cataract Surgery, Gauba et al. Arch Ophthalmology. Feb 2008. The 45 degree tilt: improvement in surgical ergonomics. Wallace RB 3rd. J Cataract Refract Surg. Feb 1999.
Contact:
Lynn Robinson
TrueVision 3D Surgical
1-805-963-9700 x110