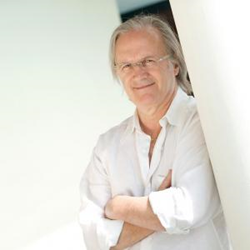 I am humbled and honored to have the opportunity to work alongside legends such as John Woo.
Beijing, China (PRWEB) March 27, 2014
Organizers of the 4th Beijing International Film Festival announced today the addition of Philippe Muyl to the festival jury, which will be presided over by director-producer John Woo, ("Mission Impossible II" & "Face Off").
Award-winning screenwriter and director, Philippe Muyl, is best known for films such as, "The Butterfly," (2002) "Magique!," (2008), "Cuisine et dépendances", (1993).
Philippe Muyl, born in 1953 in Lille, France, began his career in beaux-arts and advertising. After many successful years, his love of movies led him to a new life of filmmaking, producing his first film all on his own. Now, a well-respected writer and director, Muyl's films are revered with great notoriety among audiences as well as critics.
"I am humbled and honored to have the opportunity to work alongside legends such as John Woo." - Philippe Muyl.
Muyl's latest film, "The Nightingale," (Ye Ying/Le Promeneur d'Oiseau, 2013), takes us on a Chinese road trip with grandfather and granddaughter, through spectacular mountain villages to discover a bucolic way of life. This critically acclaimed, Franco-Chinese co-production, recently presented in Busan, Deauville and Palm Springs, makes Philippe Muyl the first non-Chinese director to shoot a completely Chinese film.
"ECI is proud to add Philippe Muyl to the jury selection. Philippe's directing experience brings diversity to the panel as well as a unique perspective on the east-west collaborations and film co-productions with China. Philippe is the first ever western director on a Chinese movie with a cast and team that are 100% Chinese." - Vincent Fischer, CEO of ECI.
The 4th Beijing International Film Festival (http://bjiff.com/) kicks off April 16th and will run through April 23rd. As part of the International Competition, the jury will present the Tiantan Awards in 10 categories: Best Feature, Best Director, Best Actor, Best Actress, Best Supporting Actor, Best Supporting Actress, Best Screenplay, Best Cinematography, Best Music and Best Visual Effects. More than 1,323 films from 79 countries have been submitted to this year's Film Panorama, 1,149 of which were foreign films. Screenings will take place in 30 theaters throughout China's capital.
About ECI
Based in Beijing, Los Angeles and Paris, ECI (http://ECI.net) is an international entertainment group operating in three business areas: film co-productions with China, distribution of western live shows in China, and management of western talent in China.
Press enquiry, please contacts

ECI Beijing - Wu Jing - Tel : +86 10 6587 6409 - beijing(at)eci(dot)net - Address: F14,Bldg.A, No.2, Rd. Gongti Bei, Chaoyang, Beijing, P.R.C
ECI Los Angeles - Arnaud Fischer - Tel: +1 (310) 385 0418 - Email: la(at)eci(dot)net - 9200 West Sunset Boulevard, Suite 434, West-Hollywood, CA 90069, USA
ECI Paris - Tel: +33 1 82 83 80 80 - paris(at)eci(dot)net - 32, Avenue Matignon, 75008 Paris, France
Philippe Muyl