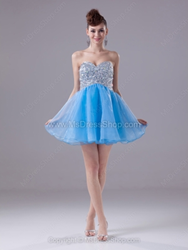 (PRWEB) March 27, 2014
Msdressshop.com, a popular supplier of special occasion dresses and bridal gowns for women, has announced a new selection of cocktail party dresses online at its website, and launched a big sale for these sparkling dresses.
"We're proud to introduce these new cocktail party dresses to the global market. We want to attract more people and expand our market share, so all these items have distinguished characteristics like fresh designs, fine tailoring and meticulous production. We have been working in the fashion field for many years, and the rich experience and vast knowledge allow us to do what clients actually need all the time," the marketing manager says.
"Our graceful outfits are hot in the global market for 5 years. Now, we are launching a big sale on both our party outfits and accessories. All new and old clients can get a discounted rate, up to 77% off," say the company's chief executive officer.
A large number of its modern outfits are very popular in the current market: cocktail dresses, party dresses, wedding dresses, prom dresses and bridesmaid dresses. The company's specialists warn customers worldwide against simply choosing the cheapest outfits. Instead, they encourage customers to have a look at all aspects of quality and fabric. The company's top designers have a vast knowledge of fashion trends. Thus, they can always create stylish items to meet the needs of different clients.
About Msdressshop.com
The company is a top brand in the fashion field, and the Msdressshop.com cheap elegant dresses are very popular nowadays. Its top experts often chat with frequent callers can list the latest fashion information on its website. The company considers the needs of clients and offers a wide range of fantastic women's dresses at its online store.
More details can be found at http://www.msdressshop.com/cocktail-dresses-c-22/.