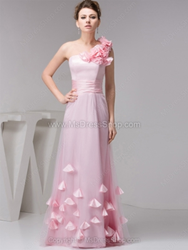 (PRWEB) March 27, 2014
With Prom only a few months away, Msdressshop.com is ready to showcase its carefully curated 2014 prom collection comprised of updated party looks in one of this season's hottest trends: Ruffles.
"We are excited to launch the ruffles prom dress selection. We will enrich the product category by announcing new ranges of prom dresses, cocktail dress and wedding gowns for 2014. As a market leader in wedding dresses and special occasion dresses, the goal of our company is all ladies getting their dream outfits without paying a large sum of money, because we understand that all ladies want to leave a good impression on families and friends," says Msdressshop.com's CEO.
The company's experienced specialists never compromise on product quality. "In the coming days, we will unveil more unique items to enrich the ruffles prom dresses category. Our new assortment comes in various styles. Each of them follows the latest fashion trends in the current market. With a single goal to help worldwide customers to get beautiful gowns at reasonable prices, we offer big savings at times."
All Msdressshop.com's brand new outfits feature fabulous looks, comfortable fabrics and perfect craftsmanship, and the ruffle prom gowns are no exception. For the kind supplier, every customer is treated nicely. True enough, the company's new outfits are ideal choices for those who want to look chic without having to pay too much.
About Msdressshop.com
Msdressshop.com is providing a wide variety of stylish daily apparels and women's special occasion dresses at its website, where worldwide customers can always find ideal choices for their big days. All the company's graceful outfits are of good quality. To meet the varied requirements of different customers, its products are always offered in various styles.
For more details, please visit: http://www.msdressshop.com/prom-dresses-c-20/ruffles_79.