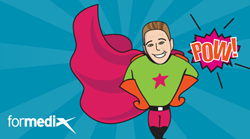 Burlington, MA (PRWEB) March 27, 2014
As a key contributor to the life sciences industry over the past 15 years, Formedix CEO Mark Wheeldon has been nominated for a place in the 2014 PharmaVoice 100 list. PharmaVOICE 100 recognizes the most inspiring people in the life sciences industry, as determined by the publication's readers. The individuals nominated are 'leaders in research and development...and have the ability to 'think outside-the-box'. Nominations highlight how the individuals have positively impacted their company or industry. It is not intended to be a popularity contest, as those included in the final '100' will be judged on the quality of nominations rather than the quantity.
As one of the most innovative, and influential characters in the life sciences industry today, the Formedix team has decided to nominate CEO Mark Wheeldon for this year's PharmaVOICE 100 - he has certainly received the internal accolade of 'Boss of the Year'. The Formedix Marketing team has devised an entire voting campaign based around Mark Wheeldon and his 'superpowers' or 'Wheeldo-man' as they like to call him! Visit the Formedix website to find out more.
The Manchester-born CEO, and qualified pharmacist, has worked tirelessly to provide real benefit and value to customers and partners respectively, since founding Formedix in 1999. Mark's drive and passion to innovate have been fundamental to the considerable company growth in recent years, with the Formedix workforce growing by over 50% since 2012. This has better equipped Mark and the team to accommodate customers and partners more effectively as well as helping to advance new, exciting developments for the clinical trial automation software.
Mark has built up a strong network of market-leading Electronic Data Capture (EDC) partners including Medidata Solutions, Mi-Corporation, Nextrials, OmniComm Systems, OpenClinica and Perceptive Informatics. Contract Research Organizations (CROs), pharmaceutical and biotechnology companies gain huge benefits from the unique integrations with Formedix Universal Design tools and these EDC solutions. He is also very highly respected within the CDISC community known for his enthusiasm, on and off the presentation podium, and is a keen member of the CDISC Industry Advisory Council (CAC).
To find out more about why the Formedix team is nominating Mark Wheeldon, click here.
To vote for the PharmaVOICE 100, visit the website.
About Formedix
Formedix clinical trial automation software and services enable you to remove manual, expensive, inefficient and labor intensive tasks from study set-up, EDC build, validation and submission publication processes.
In fact, across every facet of your end-to-end clinical trial, the time and cost savings they deliver speak for themselves and continue to do so time and time again...
Formedix saves 68% in set-up time and 55% in EDC build time. With 70% reuse of your content, resources are cut by 23%. It's all in the numbers.
Your Clinical Trials Automated. Everywhere.