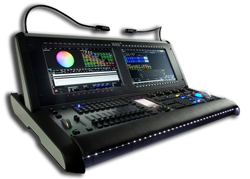 ...playing a vital role in a prestigious event such as this is a coup for our corporation.
Christchurch, UK (PRWEB UK) 27 March 2014
Designed to control the most complex and high-profile shows, the flagship Hog 4 from High End Systems (a Barco company) proved the console of choice for those organising the opening and closing ceremonies at the $600m, 40,000-seater Fisht Stadium.
Commenting for Curtiss-Wright's Industrial division, Senior Vice President & General Manager Kevin Rayment says: "Our faders are used for numerous applications throughout the entertainment sector and having them specified in a new system is great news in itself, but playing a vital role in a prestigious event such as this, is a coup for our corporation."
The latest in the Barco's range of entertainment consoles, the Hog 4 is credited with embracing cutting-edge technology, while retaining an intuitive programming and command line interface in an established environment. New encoders, jog shuttle wheels, lcd keys, an integrated keyboard and Penny + Giles' PGFM motorized faders all serve to enhance the user experience, making the Hog 4 completely customizable and capable of bringing virtually all of the most important functions to hand at any time.
The console provides three monitor outputs, MIDI input and output ports, eight USB ports, and two Fast Ethernet ports on a rugged Neutrik Ethercon connector. To provide an unlimited number of simultaneous crossfades, the Hog 4 also features ten user-programmable Penny + Giles PGFM3000 motorized playback faders with illuminated enable buttons on the playback portion of the console; and a dedicated Grand Master motorized fader.
Penny + Giles audio faders and video controllers – including manual and motorized linear motion faders; manual rotary faders; and T-Bar video controllers – are the choice of the world's leading sound and vision console manufacturers and considered by many as the industry benchmark for quality and reliability. The PGFM range of linear motorized faders is available with stroke lengths from 60mm to 100mm, features a low-profile design, linear servo output, conductive plastic tracks, precious metal contacts and twin guide rods, to ensure smooth operation whilst maintaining excellent long term electrical and mechanical performance.
Further information on the Penny + Giles range of audio faders and video controllers is available at http://www.cw-industrial.com or by calling +44-1425-271444.
About Curtiss-Wright Corporation
Curtiss-Wright Corporation (NYSE:CW) is a global innovative company that delivers highly engineered, critical function products and services to the commercial, industrial, defense and energy markets. Building on the heritage of Glenn Curtiss and the Wright brothers, Curtiss-Wright has a long tradition of providing reliable solutions through trusted customer relationships. The company employs approximately 10,000 people worldwide. For more information, visit http://www.curtisswright.com.
###