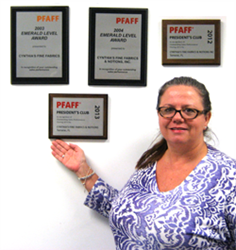 Tamarac, FL (PRWEB) March 27, 2014
Pfaff, a leading global brand of premier sewing and embroidery machines, held a regional convention in Orlando, Florida last week. After welcoming the dealers from the southeastern region, Pfaff awarded plaques to its highest achieving dealers. Cynthia Dmitrenko of Cynthia's Fine Fabrics received the 2013 President's Club award for selling Pfaff products. She thanks all her customers for making this award possible.
At the convention, PFAFF announced the launch of the newest additions to its SMARTER BY PFAFF™ series of machines: the SMARTER BY PFAFF™ 160s and 140s. Boasting sleek, bold and colorful designs, these chic new affordable machines incorporate features that simplify complex sewing tasks to encourage aspiring sewers to personalize store-bought items or create original sewing projects with confidence and ease.
"The new products in our SMARTER BY PFAFF™ line are modern, affordable machines that empower sewers to express their individuality by creating distinctive, one-of-a-kind designs," said Katrina Helmkamp, CEO of SVP Worldwide, source of the PFAFF®, SINGER® and HUSQVARNA VIKING® sewing machine brands. "Engineered to deliver the best in class quality that consumers expect from a brand endorsed by PFAFF®, these stylish machines will inspire the next generation of creativity among sewers."
Want to try one of these new machines? Come visit Cynthia's Fine Fabrics in Tamarac, Florida to see all of the newest Pfaff machines and accessories.
About the company:
Cynthia's Fine Fabrics is a full-service sewing center and fine fabric store in South Florida. They offer free sewing assistance during normal business hours and a wide variety of instructional classes for all levels (quilting, embroidery and sewing). Cynthia's Fine Fabrics is a certified dealer of Pfaff and Baby Lock Machines. Customers also have the opportunity to trade in their old machines, with a minimum trade-in value of $100 guaranteed. For more information, visit http://www.cynthiasfinefabrics.com.