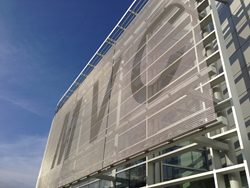 "Students are gravitating toward college campuses where attention is paid to facility aesthetics, comfort and 'green' design, and that's good news for those of us in the metal mesh fabrication business," said Matt Aebischer, Cambridge Architectural
Cambridge, Maryland (PRWEB) March 27, 2014
Cambridge Architectural, the world's largest full-service provider of sustainable architectural mesh systems for building applications, is seeing an increase in college and university construction projects that incorporate stainless mesh as both a distinctive design element and a cost-effective solution for achieving energy savings.
Moreno Valley College
The latest Cambridge campus project is the new Student Academic Services Building at Moreno Valley College in Moreno Valley, California. The school is part of the Riverside Community College District.
Three large Mid Balance mesh panels etched with MVC lettering were hung in January on a 35-foot glass curtain wall covering the exterior of the building's 6,000 square-foot assembly area that provides a northern view of the surrounding San Bernardino Mountains. In addition to being a striking visual display, the stainless steel mesh panels act as a sustainable building façade, providing significant solar shading and daylighting benefits. Architects were DLR Group WWCOT and the general contractor was C.W. Driver. Columbia Steel installed the mesh.
2014 Cambridge Architectural Campus Projects
Three additional Cambridge projects are under way on college and university campuses this year: Cecil Community College Engineering and Math Building, Elkton, Maryland; University of California Santa Barbara Davidson Library; and North Carolina A & T State University Student Health Center, Greensboro, North Carolina.
The renewed growth in campus construction reflects an anticipated rise in higher education enrollment as institutions of higher learning invest in facilities to attract students and remain competitive in the education marketplace.
The Projections of Education Statistics 2022 published in February 2014 by the National Center for Education Statistics predicts a 14 percent increase in full and part-time enrollment at post-secondary degree-granting institutions of higher learning between 2011 and 2022.
Concurrently, the College Planning & Management 2014 Construction Report, also released in February, tallies 2013 U.S. campus construction and retrofit spending at $10.9 billion, up 12.4 percent from 2012.
"Students are gravitating toward college campuses where attention is paid to facility aesthetics, comfort and environmentally responsible 'green' design, and that's good news for those of us in the metal mesh fabrication business," said Matt Aebischer, Managing Director, Cambridge Architectural. "In an environment where universities are striving to communicate their identities and commitment to excellence, woven mesh can broaden an architect's creative palate, while achieving functional objectives such as daylighting, solar shading, glare reduction and ventilation."
Other recently completed Cambridge Architectural college campus projects include:
University of Baltimore John and Frances Angelos Law Center, Baltimore, Maryland
A striking 33-foot mesh curtain designed and fabricated by Cambridge Architectural is the stunning centerpiece anchoring the 7th floor lobby of the John and Frances Angelos Law Center at the University of Baltimore. Fabricated of Shade metal mesh and installed using Cambridge's pioneering curtain attachment system, the curtain conveys an ethereal aesthetic while providing strength. The flexible, open pattern optimizes light and ventilation and the curtain moves smoothly and seamlessly along a concealed, ceiling-mounted track. A customized anchor system secures the draped mesh to rollers.
Architect: Behnisch Architekten,
Contractor: Whiting Turner
Installer: Commercial Interiors, Inc.
Texas A & M University Memorial Student Center, College Station, Texas
Living up to the reputation in Texas that bigger is better, Cambridge Architectural Graph mesh with a blast-etched Texas A&M seal was used to create a dramatic entrance to the student center. The metal mesh hangs on two side-by-side, 27-foot panels with a Cambridge Rigid Mesh in-tension attachment system engineered specifically for the project. Adjacent stairwell and balcony railing infill panels incorporate more Graph mesh and help main continuity of design while offering fall protection.
Architect: Perkins+Will
Contractor: Vaughn Construction
Installer: Orozco Construction
University of Calgary Taylor Family Digital Library, Calgary, Alberta
The state of the art library archives millions of aerial photographs, architectural drawings and print monographs. Cambridge Architectural's Mid-Balance stainless steel mesh façade deflects sun rays from entering the building and protects rare documents from solar heat gain while optimizing the building's energy performance. Anchored with an Eclipse attachment system, the large mesh panels filter intense sun while still allowing sufficient ambient daylight and unobstructed views to the campus quad. The steel mesh and attachment system are made from recycled content and require minimal façade maintenance.
Architect: Kasian Architecture Interior Design and Planning
Contractor: CANA Construction
Installer: Flynn Canada Ltd.
Lincoln University Langston Hughes Memorial Library, Chester, Pennsylvania
Dedicated to the renowned poet and Lincoln alum, the recently renovated library at this historic institution houses 185,000 volumes and includes an extensive collection of materials chronicling the African American experience from Africa to America. Vertical panels using Cambridge Shade mesh filter sunlight on the library's glass curtain façade while still allowing an abundance of natural light. Twenty, 20-foot high mesh panels installed in a perpendicular fin configuration maximize shading while preserving open views of the campus center. The panels are secured with a modified Cambridge Eclipse attachment system.
Architect: Fraytak Veisz Hopkins Duthie
Installer: Cambridge Architectural
Western Oregon University Health & Wellness Center, Monmouth, OR
Cambridge Shade mesh was used not only as a design element to establish a gateway and identify the front entrance of the building, but also for solar shading of the fitness area that floats over the entrance where cardio and weight machines are located. The mesh runs perpendicular to the window glazing system to allow for transparency at night while shading the afternoon sun. Cambridge mesh's beauty and durability were important factors in the architect's goal of sustainable design. The mesh is attached using an Eyebolt system.
Architect: Opsis Architecture
Contractor: Hoffman Construction
About Cambridge Architectural
Cambridge Architectural, a division of Cambridge International, is the most experienced full-service provider of sustainable architectural mesh systems for both interior and exterior building applications. As the world leader in tensioned mesh systems, Cambridge Architectural metal fabric solutions lend unique aesthetic appeal, functionality, affordability and sustainable benefits to a variety of structures interior and exterior. Cambridge Architectural offers full system design, engineering and collaboration from concept through installation – in the most challenging building environments and under the strictest budgets. Cambridge Architectural metal fabric systems are categorized by the primary applications they serve, including parking structures, exterior shades, facades, canopies, curtains and others. As a member of the United States Green Building Council, Cambridge Architectural is committed to promoting methods, technology and products resulting in environmentally responsible and healthy buildings. The Cambridge Architectural team develops systems that meet or exceed LEED requirements and provides consultation and direction on a project-by-project basis. Visit http://www.CambridgeArchitectural.com for more information.