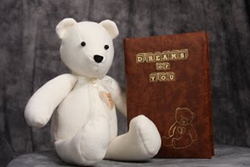 The Dreams of You Memory Book was created by SGM for mothers and families who have lost a baby.
Manchester, NJ (PRWEB) March 28, 2014
March 22 through March 28 are significant dates in the Doula Community. They mark the week celebrated as "World Doula Week." According to Still Birthday founder Heidi Faith, "Doula is a Greek word, which dates back to biblical usage. According to the New Testament usage, it meant someone who was willing to provide service to someone in need, so that the person in need would learn about Jesus' sacrificial love."
Heidi Faith is the founder and instructor of Still Birth University. She offers Birth and Bereavement Doula Training. SBU was established in August of 2011. "Still Birthday provides the most comprehensive, globally accessible, dual training program of its kind, combining a complete birth doula preparation program with an intensive bereavement doula training. Upon successful completion of our course and earning the SBD credentials, you will be capable of providing support for birth in any outcome and in any trimester," states Heidi on-site.
Kelly Gerken is the founder of Sufficient Grace Ministries. "Sufficient Grace Ministries for Women, a 501 (c) 3 non-profit, non-denominational organization, was founded in 2004, with the purpose of reaching out to women and families to offer comfort, encouragement and hope. The Dreams of You division of this ministry was created specifically to provide comfort to women and families who have lost a baby through miscarriage, stillbirth, or infant death. Sufficient Grace Ministries offers a comprehensive list of support options for bereaved parents, and parents currently carrying a baby with a life-limiting diagnosis. A team of staff, leaders, and volunteers helps us offer the wide range of free services we make available to more than 500 bereaved families each year, worldwide, fulfilling the mission of SGM to offer the same comfort to others we received from the Lord in our time of need. Bereaved parents are never asked to pay for products or services. SGM is supported through donations from individuals, churches, businesses, and other organizations. Currently, close to 50 volunteers serve with SGM," states Kelly on-site.
Heidi and Kelly teamed up to allow SGM to add Perinatal Hospice/Bereavement Team resources to their list of services. Heidi generously offers class discounts to SGM students and the service is rapidly expanding. Sufficient Grace Ministries is located in Deshler, Ohio and has branches throughout Ohio, Michigan, St. Louis, parts of Kentucky and will soon in New Jersey.
Katy Larsen of Somewhere Over the Rainbow will begin her Birth and Bereavement Doula Training with Heidi Faith at the beginning of April. Upon completion, she will be the Regional Coordinator for Sufficient Grace Ministries in New Jersey.
"It shows you how the amazing love and grace of Christ works to support, connect and serve others in His name. It is a journey I am excited to embark on with these beautiful women," stated Katy.
"I am also looking for volunteers who wish to become involved in the Central/Jersey Shore area. Positions would range from doulas, photographers, crafters who knit, crochet, sew and can make bracelets, among other things. If interested in getting involved, please email me at deliveringhopeforhannah(at)yahoo(dot)com."
To learn more about Still Birthday and Still Birthday University you can visit them here. To learn more about Sufficient Grace Ministries and the work they do you can visit them here.