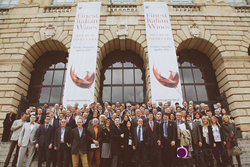 To be included for the first time in the list of the top 100 Italian wines is an honor
Verona, Italy (PRWEB) March 27, 2014
Last week, Vinitaly International announced this year's list of the Top 100 Italian wines, as chosen by US-based Wine Spectator Magazine, for the third annual Opera Wine. The premier showcase for the 48th edition of Vinitaly, the world's largest wine event with a forecasted 150,000 attendees and over 4,000 presenters, Opera Wine is a collaboration between Veronafiere and Wine Spectator that brings together Italy's finest wine producers in a single grand tasting, to be held April 5th in the Palazzo Gran Guardia in the heart of Verona. This year's list includes six new producers, who all hail from lesser-known wine regions: Lombardy, Marche, Sardinia, Basilicata, Calabria and Puglia.
"This is a great achievement for a small winery like ours," beams Simona Fino, sales manager for Gianfranco Fino winery in Puglia. "It's an opportunity to vie with the greats of Italy."
For these wineries, it's an honor validated by the reach and authority of Wine Spectator. As Executive Editor Thomas Matthews explains, "Wine spectator is the best-read wine publication in the world, with more than 3 million readers. Each year we review about 20,000 wines through blind tastings, including nearly 4,000 wines from Italy."
"For us, Wine Spectator has always represented the most important and influential magazine in the world of wine," agrees Sebastiano Rosa, co-owner and director of marketing for Agricola Punica, in Sardinia. "So to be included for the first time in the list of the top 100 Italian wines is an honor."
All six of these wineries seek to act as spokespeople for their regions, spreading awareness of the great wines that can come from territories beyond the traditionally famous winemaking areas like Piedmont and Tuscany. "We see this not so much as an arrival point as a departure point, to be able to communicate to our clients all over the world that Sardinia - in this case the Sulcis region - can produce outstanding quality," continues Rosa. "We are proud to be one of the two wineries selected from Sardinia, and hope to represent our product the best we can."
"At Opera Wine, we hope to convey the wine culture of our region – a territory of incredible potential, which is never appreciated enough," explains Giovanna Bianchi, communications director at Il Pollenza in the Marche region. "The idea for us was to create a modern winery that is dynamic and capable of expressing quality at the highest levels. Results like this acknowledgement by Wine Spectator motivate us to work even harder to achieve our objectives."
Cantina Mamete Prevostini of Lombardy agrees. "We seek to be the spokesperson for the modern Valtellina, dispelling outdated ideas about wine that customers might have. At Opera Wine, we hope to communicate the values that distinguish us: the modernity, elegance, cleanliness and pleasure of our wines."
It is not just their territories that these wineries seek to promote, but also the local grapes that have produced these exceptional wines. "We're incredibly proud to be among the best 100 wines in Italy," admits Erminia D'Angelo, co-owner with his brother Rocco of Tenuta del Portale in Basilicata. "We are two young entrepreneurs who have inherited the passion for wine from our father and grandfather – passion that has been with our family since the 1930s. Our ambition is to produce wine that faithfully expresses the characteristics of Aglianico and its territory. Our constant commitment to endorsing and spreading knowledge of Aglianico del Vulture in the world is reflected in this honor."
And, as true custodians of their territory, fundamental for each of these wineries is expressing in every bottle the territory they call home. "I enjoy participating in exhibitions like Opera wine, because in reality I would like to invite everyone to Calabria to see the sky, the land and the sea, to hear the wind, smell the perfume of the flowers and the wild power of nature with 7000 years of history," explains Gregorio Lillo Odoardi, proprietor of the Odoardi winery in the province of Catanzaro. "All of this is wine - the awe-inspiring synthesis and universal message of this extraordinary adventure that spans millennia."
"As the ambassadors of Italian wine, it's a pleasure this year to have with us at Opera Wine six new producers who share this vision of communication and education of Italian wine" says Managing Director of Vinitaly International Stevie Kim. "This year at Opera Wine our communication reach will be broader than ever; we will be broadcasting the event on all of our social media channels through videos, photos, and interviews posted on a real-time basis, allowing wine enthusiasts around the world – including Vinitaly's 100,000 followers – to share moments with these producers and their exceptional wines."
About:
Wine Spectator is the world's leading authority on wine that reaches more than 3 million readers worldwide, exploring wine's role in contemporary culture and delivering expert reviews of more than 15,000 wines each year. Wine Spectator is solely responsible for the choice of producers at the event.
Veronafiere is the leading organizer of trade shows in Italy including Vinitaly (http://www.vinitaly.com), the largest wine event in the world. The 47th edition of Vinitaly counted some 148,000 visitors (+6%), of which 53.000 were international attendees (+10%) visiting from 120 countries. On 95.000 square meters, 4.200 exhibitors welcomed trade professionals, media and producers alike. The next installment of the fair will take place on 6th- 9th April 2014. The premier event to Vinitaly, OperaWine (http://www.vinitalyinternational.com) "Finest Italian Wines: 100 Great Producers", will unite international wine professionals on April 5th 2014 in the heart of Verona. Veronafiere also created Vinitaly International in 1998 to develop a global platform for the promotion of companies in the Italian wine and food sectors.
# # #