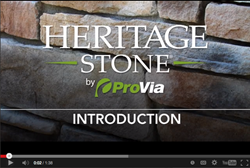 The series includes 18 how-to videos designed to give DIY homeowners and contractors handy tips for manufactured stone installation.
Sugarcreek, OH (PRWEB) March 28, 2014
ProVia, a leader in exterior building products, today unveiled a new video series that provides detailed instructions and tips for stone veneer installation using products from Heritage Stone by ProVia. The videos are designed to help DIY homeowners and professional installation contractors complete manufactured stone installations safely and effectively.
There are two keys to creating beautiful, long-lasting stone veneer applications: start with quality stone veneer products and employ proper stone veneer installation techniques. As one of an elite group of top tier stone veneer manufacturers, Heritage Stone by ProVia's products meet the industry's toughest standards for manufactured stone quality and come with the industry's only lifetime limited warranty. As a company dedicated to "caring for details in ways others won't," Heritage Stone put together this video series on "How to Install Stone Veneer" to help assure proper stone veneer installation.
The series includes 18 videos that provide handy installation tips on topics such as: Estimating Quantity of Materials Needed, Surface Preparation, Mortar and Grout Techniques, Applying Stone With Tight-Fitted Joints, Brick Installation, and Cleaning and Sealing.
The videos are intended to supplement the Masonry Veneer Manufacturers Association's official printed installation instructions. To view the video series visit http://www.proviaproducts.com/stone-installation.
About ProVia®
Headquartered in Sugarcreek, Ohio, ProVia is a leading manufacturer of professional-class entry doors, storm doors, patio doors, windows, vinyl siding and manufactured stone. The professional-class designation reflects the company's high level of quality, service and customization. ProVia has been an ENERGY STAR® Partner with the Environmental Protection Agency and the U.S. Department of Energy since 2002, and has won the prestigious ENERGY STAR Partner of the Year award for Door Manufacturing four times, and the ENERGY STAR Sustained Excellence award three times. The company employs approximately 500 people at its headquarters and manufacturing facilities in Sugarcreek, Walnut Creek, Baltic and Zanesville, Ohio, and Booneville, MS. For more information, visit http://www.proviaproducts.com.