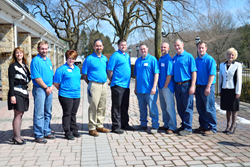 Our employees continuously strive to improve within their positions...
Gratz, PA (PRWEB) March 27, 2014
On March 11th, eight team members of MI Windows and Doors manufacturing teams were recognized for competing the training for the Management Development Certificate Training offered by the Northeast Pennsylvania Manufacturers and Employees Association. A luncheon was held at the Schuylkill Country Club where employees from seven NEPA companies were represented.
The courses offered through the MAEA are geared to the manufacturing industry and help to prepare employees to meet challenges of the future. MIWD employees received training that included classes on critical thinking and problem solving, managing difficult people and stress, accountability and empowerment, project management, and conducting effective meetings. "Our employees continuously strive to improve within their positions and the MAEA training is a great tool for us to use to help our team members grow," stated Sherri Hebda, Regional Human Resources Manager at MIWD. "We were very proud to be so well represented at this event." Individuals that received certificates were Andy Adams, Tifini Clemens, Brian Deiter, Sean Erdman, Ryan Hummel, Denny Lower, Matt Sherman, and Bruce Trauger.
About MAEA Training Opportunities
The MAEA training offers comprehensive programs and support services that provide a "one-stop-shop" training solution for the manufacturing industry. Programs include trainings for team leadership, supervisory development, management development, executive leadership, communication mastery, administrative professional, personal, and organizational development, diversity, human resources, hands-on computer, process improvement, purchasing, and safety. Many of their programs are eligible to receive certificate from both the National Association of Manufacturers and the Pennsylvania Manufacturers Association. For more information, visit http://www.maeaweb.biz.
About MIWD
Founded in 1947, MI Windows and Doors is one of the nation's largest suppliers of energy efficient vinyl, aluminum, and composite windows and doors. With plants across the country, MIWD offers a broad spectrum of windows and doors backed by exemplary customer service. The company's character, integrity, and commitment are exemplified by the people that represent it nationwide. For more information about MIWD, visit http://www.miwd.com.