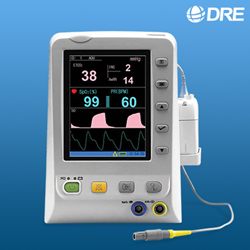 "DRE always looks for cutting edge technology to help medical professionals keep up with changing standards of care." -Jim Evans, DRE Medical
Louisville, Ky. (PRWEB) March 27, 2014
DRE Medical — a premier medical and surgical equipment provider — is seeking to make the transition to new capnography compliance standards easier by offering the DRE Echo CO2 Capnograph Monitor. The Echo works with existing technology to integrate capnography monitoring.
This change is safer for patients, but it often requires medical professionals to purchase new, capnography compliant equipment.
Capnography monitoring for procedures requiring moderate sedation, deep sedation and general anesthesia is rapidly becoming the industry standard.
What started as guidelines from the American Society of Anesthesiology and the American Heart Association are now becoming requirements for various medical specialties. The American Association of Oral and Maxillofacial Surgeons, for example, began required capnography monitoring in January.
Choosing the Echo is a cost-effective option for practices who already have a late model vital signs monitor but are wishing to add CO2 monitoring capabilities. The Echo also works in conjunction with existing nasal hoods, making it easy to integrate the device with existing systems during procedures.
The DRE Echo has an easy-to-use interface that lets medical professionals concentrate on the patient instead of operating the device. With the Echo, capnography monitoring is as simple as pressing a button.
DRE is also offering this device for a value, in order to help medical professionals offset the costs of disposables necessary for capnography. The DRE Echo makes the transition to capnography monitoring as easy as possible.
Jim Evans, the national sales manager for DRE's Medical Supplies Division, said the company strives to supply customers with innovative, efficient equipment.
"DRE always looks for cutting edge technology to help medical professionals keep up with changing standards of care," Evans said. "The company follows industry trends and is constantly changing its inventory to reflect those changes."
The company's number one goal is to provide quality equipment that helps customers serve patients in today's advancing medical field.
About DRE
Since 1984, DRE has worked to be a single supplier for all major operating room equipment and surgical equipment. For the two straight years, Inc. magazine has named DRE, Inc., a premier surgical and medical equipment supplier, to its annual Inc. 5000 list of the nation's fastest-growing private companies.