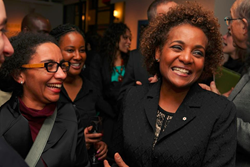 WorldPride 2014 Toronto is proud to partner with the AGO and the Michaëlle Jean Foundation to promote this creative outlet for youth from across the country.
Toronto, Ontario (PRWEB) March 27, 2014
WorldPride 2014 Toronto, the Michaëlle Jean Foundation and the Art Gallery of Ontario (AGO) are teaming up to launch the groundbreaking 4th Wall Youth Solidarity Project, which promotes safe, inclusive and healthy communities for marginalized youth, particularly those from Two-Spirit and LGBTTIQQA communities. With the support of over 50 human rights, faith-based, arts, newcomer, Aboriginal and health organizations, the project will inspire Canadians of all ages and backgrounds to voice the importance of establishing and safeguarding an open and inclusive society for all.
Featuring a national digital art contest, an online vote to select a brand new public mural, an exhibition during WorldPride 2014 Toronto and a youth forum, the 4th Wall Youth Solidarity Project will use digital platforms to engage youth from coast to coast to coast. Launching today, http://www.youthsolidarityproject.ca will be the portal to the project.
"Youth are the voice of the present and the future! They inspire us to be fearless through their own expression and insert new and fresh ideas into their communities and the world," said Dr. Shelley Craig, Co-Chair of Pride Toronto. "WorldPride 2014 Toronto is proud to partner with the AGO and the Michaëlle Jean Foundation to promote this creative outlet for youth from across the country, particularly those in rural and isolated regions to find their voice and share their dreams."
"The arts have an incredible ability to bring diverse groups of people together and to ignite action for change. This youth solidarity initiative taps into the power of the digital arts to give voice to those who feel excluded. It also offers a platform for Canadians to show love and compassion for young people who, to this day, still feel unsafe in their communities," said the Right Michaëlle Jean and Jean-Daniel Lafond, Co-founders and Co-chairs of the Michaëlle Jean Foundation.
"The AGO is delighted to partner with the Michaëlle Jean Foundation and WorldPride 2014 Toronto to bring this truly unique initiative to youth across Canada," said Matthew Teitelbaum, Director and CEO of the Art Gallery of Ontario. "Every single young person has a role to play in defining the artistic landscape of our country, and it's our privilege to help them make their voices heard through the 4th Wall Youth Solidarity Project."
The groundbreaking initiative will include:

A National Digital Arts Competition inviting youth, aged 14-30, to express themselves creatively on the theme "Solidarity with Canada's Two-Spirit and LGBTTIQQA Communities." Six jury-selected finalists will each receive $1,000 and see their artwork displayed in a special WorldPride 2014 Toronto exhibition at the AGO! Artwork may be submitted online at http://www.youthsolidarityproject.ca. The deadline for applications is April 25, 2014.
An Online Vote for Canadians of all ages to select the artwork that best reflects the contest theme. The winner will be flown to Toronto, awarded a $1,000 cash prize and see their artwork featured as a public outdoor mural. The online vote opens at http://www.youthsolidarityproject.ca opens on May 14, 2014;
A WorldPride 2014 Toronto Exhibition, which will feature the artwork of the six competition finalists. The exhibition will be on at the AGO from June 22 to Nov. 15, 2014.
A High Energy Youth Solidarity Forum, taking place on June 22, 2014 at the Art Gallery of Ontario in partnership with Jer's Vision, to discuss strategies to create healthy, safe and inclusive communities through the arts in Canada.
Lead collaborators taking part in the 4th Wall Youth Solidarity Project include Fondation Emergence, Egale Human Rights Trust, Two-Spirits of First Nations, Jer's Vision and the Centre for Addition and Mental Health. Community collaborators include over 50 organizations from across Canada. To learn more, visit http://youthsolidarityproject.ca/collaborators.
ABOUT THE 4TH WALL PROGRAM
In theatre, the "4th wall" is an imaginary screen that creates a virtual separation between actor and spectator. There are many ways to cross the 4th wall and to make the invisible visible. The Michaëlle Jean Foundation chose to do so through the 4th Wall: Make the Invisible Visible program, in collaboration with several prestigious Canadian museums and art galleries. The goal is to invite young creators to break down the invisible walls that create solitudes between individuals and communities across Canada, by opening the doors of our major cultural institutions to emerging creators from marginalized backgrounds.
The Foundation offers museum and art gallery space and bursaries to youth from disadvantaged backgrounds, often cut off from museums, so that they can produce original art that conveys their experiences, ideas and challenges. On display for the public to see, their work provokes debate and builds solutions. The first 4th Wall exhibition was launched on February 5, 2014, at the Montreal Museum of Fine Arts, to mark Black History Month in collaboration with FRO Foundation.
About WorldPride 2014 Toronto
WorldPride 2014 Toronto (WP14TO) is an international celebration taking place from June 20 – 29, 2014 that incorporates activism, education, and the history and culture of global LGBTTIQQ2SA* communities. WorldPride 2014 Toronto is presented by Pride Toronto, producer of Canada's largest annual festival of LGBTTIQQ2SA culture and human rights, under license from InterPride. Pride Toronto is the not-for-profit organization that hosts the city's Pride Festival, an annual event in downtown Toronto during the last week of June and one of the premier arts and cultural festivals in Canada. It is also one of the largest Pride celebrations in the world with an estimated attendance of over one million people. It celebrates the history, courage, diversity and future of Toronto's LGBTTIQQ2SA* communities. See more at: http://www.worldpridetoronto.com.
*LGBTTIQQ2SA is an abbreviation used to represent a broad array of identities such as, but not limited to, lesbian, gay, bisexual, transsexual, transgender, intersex, queer, questioning, two-spirited, and allies. - See more at: http://www.worldpridetoronto.com/news/worldpride-welcomes-country-artists-and-metis-story-tellers#sthash.43PfwTbG.dpuf
About the Michaëlle Jean Foundation
The Michaëlle Jean Foundation supports youth arts initiatives that transform young lives and revitalize underserved communities across Canada. Through our programs, underprivileged youth are using their creativity to build new solutions to pressing social issues, like poverty, social exclusion and mental health. In so doing, they are catalyzing innovative community renewal projects, driving crucial Aboriginal cultural resurgence initiatives, and kick-starting cutting-edge business ventures, all over the country. For more info: http://www.fmjf.ca.
About the Art Gallery of Ontario
With a collection of more than 80,000 works of art, the Art Gallery of Ontario is among the most distinguished art museums in North America. From the vast body of Group of Seven and signature Canadian works to the African art gallery, from the cutting-edge contemporary art to Peter Paul Rubens' masterpiece The Massacre of The Innocents, the AGO offers an incredible art experience with each visit. The AGO has an active membership program offering great value, and the AGO's Weston Family Learning Centre offers engaging art and creative programs for children, families, youth and adults. Visit ago.net to find out more about upcoming special exhibitions, to learn about eating and shopping at the AGO, to register for programs and to buy tickets or memberships.
-30-
For more information, please contact:
Trevor Hampden
Communications Manager
World Pride 2014
647.465.6718
trevor(at)pridetoronto(dot)com
Peter Flegel
Director of Communications and Programs
Michaëlle Jean Foundation
613.562.5468
pflegel(at)fmjf(dot)ca
Caitlin Coull
Communications Manager
Art Gallery of Ontario
416.979-6660 ext. 364
caitlin_coull(at)ago(dot)net