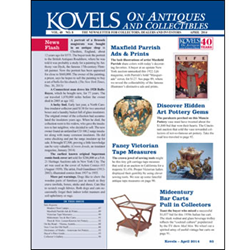 Cleveland, OH (PRWEB) March 27, 2014
A 1922 Life magazine with Maxfield Parrish's bold "Masquerade" cover sold for $127 at a New York auction. More of the famous illustrator's distinctive ads and prints are pictured with prices in "Kovels on Antiques and Collectibles" April 2014 newsletter. Proper Victorian ladies used clever sewing tools and Kovels' April newsletter has some fanciful antique tape measures that auctioned in California, where the crown jewel was a tiny gilt carriage tape measure that sold for $1,456. "Kovels on Antiques and Collectibles" also continues to celebrate its 40th year of publication with a sale report featuring art pottery by some not-so-famous potteries such as Russell Crook, Arc-En-Ciel and Zanesville. Find pictures, descriptions and prices of examples that sold in Cincinnati in April's issue.
Midcentury modern style is enjoying a renaissance right now and Kovels' April newsletter looks at sleek vintage bar carts that reflect the "cocktail culture" popularized by the current TV show "Mad Men." At $2,440, a Paul McCobb bleached mahogany and brass beverage trolley with a marble top was the most expensive bar cart at auction in Illinois, where bargains of $500 or less could also be had. And every fan of '50s design needs at least one modern floor lamp to complete the look. Kovels' offers pictures, descriptions and prices of inexpensive floor lamps with clean but eye-catching lines.
New Uses for Old Stuff pictures a clever new way to recycle a broken wristwatch by turning it into a wrist "locket." April's Dictionary of Marks lists American art pottery companies to look for. The popular illustrated Collector's Gallery has prices and answers to readers' questions about an Eastlake inkstand, a Lalique clock, an old pair of high-button shoes and a Hammond typewriter. The Buyer's Price Guide has current prices of 50 antiques and collectibles and also shows what's up and what's down by comparing prices with those from the April 1975 newsletter.
"Kovels on Antiques and Collectibles" is available as a print subscription or as a digital version that is part of the Kovels.com Premium subscription.
Terry Kovel is America's foremost authority on antiques and collectibles. She is the well-known columnist and author of more than 100 books on antiques and collecting. With her daughter, Kim Kovel, she co-authors the best-selling annual "Kovels' Antiques and Collectibles Price Guide." They will discuss antiques and collectibles topics with accredited media. Photographs are available. Contact pr(at)kovels.com.
About Kovels.com
Kovels.com, created by Terry Kovel and Kim Kovel, provides collectors and researchers with up-to-date and accurate information on antiques and collectibles. Kovels' Antiques was founded in 1953 by Terry Kovel and her late husband, Ralph. Since then, Kovels' Antiques has published some of America's most popular books and articles about antiques, including the best-selling "Kovels' Antiques and Collectibles Price Guide," now in its 46th edition. The Kovels' website, online since 1998, offers 900,000 free prices, and includes a free weekly email, "Kovels Komments." Kovels.com gives readers a bird's-eye view of the market through the latest news, auction reports, a Marks Dictionary, readers' questions with Kovels' answers and much more.
Contact Information:
Liz Lillis
216.752.2252
Pr(at)kovels(dot)com