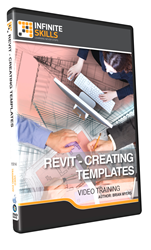 Learn Revit - Creating Templates at Your Own Pace
(PRWEB) March 27, 2014
Software training firm Infinite Skills Inc. this week released its "Revit - Creating Templates Tutorial," an introductory course designed to help with large deployments of Revit for use within organizations and companies.
Revit is a computer assisted design (CAD) program with templates that involve thousands of customizable and adjustable settings, providing the ability to customize standards for deployment across the organization.
Infinite Skills' Revit - Creating Templates Tutorial concentrates on some essential elements to establishing an effective template that can then be customized to suit specific environments.
Revit - Creating Templates Video Training - Streaming
Course author Brian Myers is a virtual design and construction specialist with Penta Engineering, where he works with engineers to produce architectural renderings. A former residential designer, he also has extensive experience as a software application trainer, focusing on Revit and AutoCAD. He has been a technical editor for several design software publications and founded and currently manages the LinkedIn network Revit Users.
Myers begins by explaining the initial concerns of starting a Revit template, looking at how to apply levels, organize the project browser, use elevation tags, work with legends, and more.
From there, the course covers annotation, tags and titles, working with project information and parameters, and title blocks.
The course then covers template creation for different kinds of design, providing an overview for the kinds of settings to be applied in either architectural, structural, or mechanical designs.
"Setting up a Revit template can be a daunting task no matter what your experience level with the software," Myers explains.
"I hope you'll use these videos as a guide for the different objects settings you need to create and adjust when deploying Revit across your organization."
Free demo videos and a full list of course contents can be found on the Revit - Creating Templates training page of the Infinite Skills website: http://www.infiniteskills.com/training/revit-creating-templates.html.
Infinite Skills offers its Revit - Creating Templates Training Video either as a DVD or a direct download from the company website at a retail price of $49.95. Though the compatibility of programs varies, all Infinite Skills titles and formats are compatible with both Mac and Windows operating systems, and shipping is available around the globe. Additionally, Infinite Skills tutorials are supported by project files which correspond to examples in the videos.
About Infinite Skills Inc.
A leader in the field of software training, Infinite Skills designs its courses on a task-oriented model, teaching complex skills by providing hands-on examples and guiding users as they carry out essential functions. Infinite Skills offers a wide range of software titles available as DVDs, digital downloads, and in iPad editions. Infinite Skills now offers a subscription service, providing access to all its training content for a monthly fee, keeping with company's aim of delivering professional training to customers anywhere they want to learn.