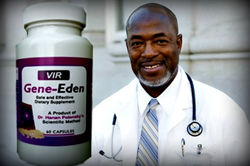 Since there are no drugs approved by the FDA to specifically treat fatigue, we recommend that individuals with anemia speak to their doctors about Gene-Eden-VIR, which was clinically shown to reduce fatigue with no side effects. - Mike Evans, polyDNA
Rochester, NY (PRWEB) April 01, 2014
Anemia can be caused by the Epstein Barr Virus (EBV) (1). One of the major symptoms of anemia is "fatigue and loss of energy." (See WebMD, last reviewed on May 13, 2013) (2). One of the most important causes of a feeling of fatigue is an infection, specifically, with a latent virus, such as the Epstein-Barr virus (EBV). (See Pharmacology & Pharmacy, from March 2014) (3). Thus an infection with the latent EBV can result in both anemia and fatigue. polyDNA recommends that individuals with anemia ask their doctors for an EBV test. If positive, talk to the doctor about Gene-Eden-VIR. This natural antiviral was clinically shown to reduce fatigue in a post-marketing clinical study that followed FDA guidelines.
EBV is not the only virus associated with anemia. Another study found that "Infections with Epstein-Barr virus, cytomegalovirus, varicella-zoster virus, human herpes virus 6 (HHV-6), B19 parvovirus, human immunodeficiency virus, hepatitis A and C viruses… have been reported in association with anemia." (See the journal Stem Cells, from November 2011) (4). In addition, "Most of the viruses known to be associated with anemia in humans tend to persistently infect their host (4)." In other words, these viruses establish a chronic (latent), long-term infection.
When an infected individual has anemia, he or she may experience "a sense of tiredness, lack of energy, a feeling of exhaustion, and impaired physical and/or cognitive performance (3)." In fact, due to this type of fatigue, there are up to 10 - 15 million visits to the family doctor every year (3).
"Since there are no drugs approved by the FDA to specifically treat fatigue, we recommend that individuals with anemia speak to their doctors about Gene-Eden-VIR, which was clinically shown to reduce fatigue with no side effects." - Mike Evans, polyDNA
A recent post-marketing clinical study conducted by the Center for the Biology of Chronic Disease (CBCD) found that following treatment with Gene-Eden-VIR, participants reported a decrease in their feelings of general, physical, and mental fatigue.
"Gene-Eden-VIR safely decreased the feeling of general, physical, and mental fatigue in individuals infected with a latent virus (like EBV). Since most individuals are infected with a latent virus, health care practitioners should recommend Gene-Eden-VIR as a first line treatment for fatigue (3)."
This is the second time that a peer reviewed medical journal published a paper reporting a clinical study on Gene-Eden-VIR's, patent protected, natural formula. The first paper, entitled "Gene-Eden-VIR Is Antiviral: Results of a Post Marketing Clinical Study" was published in September 2013 and can be found at: http://www.scirp.org/journal/PaperInformation.aspx?PaperID=36101#.UzQEv6iSz90.
To view the entire paper on Gene-Eden-VIR and fatigue, visit: http://www.scirp.org/journal/PaperInformation.aspx?PaperID=44234#.UzQC5KiSz90.
For more information on Gene-Eden-VIR please visit the product's official website at: http://www.gene-eden-vir.com.
We invite the media to contact us for interviews at: note (AT) buy-gene-eden.com or phone 585-250-9999. All orders of Gene-Eden-VIR are completely confidential, and no information is shared or sold to any third party. Privacy is assured.
References:
(1) Patient.co.uk - Aplastic Anaemia. Last reviewed on February 18, 2014.
http://www.patient.co.uk/doctor/aplastic-anaemia
(2) WebMD - Understanding Anemia - Symptoms. Last updated on February 18, 2014.
http://www.webmd.com/a-to-z-guides/understanding-anemia-symptoms
(3) Gene-Eden-VIR Decreased Physical and Mental Fatigue in a Post Marketing Clinical
Study That Followed FDA Guidelines; Results Support Microcompetition Theory. Published in March 2014.
http://www.scirp.org/journal/PaperInformation.aspx?PaperID=44234#.UzQo7qiSz90
polyDNA is a biotechnology company that develops dietary supplements using the unique scientific method developed by Dr. Hanan Polansky, which is based on Computer Intuition.
In addition to his unique scientific method, Dr. Polansky published the highly acclaimed scientific discovery, called Microcompetition with Foreign DNA. The discovery explains how foreign DNA fragments, and specifically, DNA of latent viruses, cause most major diseases.
polyDNA developed Gene-Eden-VIR, an antiviral natural remedy that helps the immune system kill latent viruses.