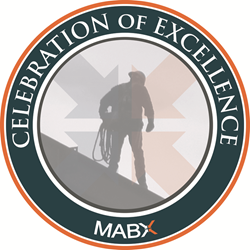 Harrisburg, PA (PRWEB) March 28, 2014
On March 27, 2014, Mid Atlantic BX (MABX®) honored 24 construction workers, seven companies and five high school seniors at the construction trade association's 42nd Annual Celebration of Excellence Awards Night at the Radisson Hotel Harrisburg.
MABX, a trade association serving the construction industry, began presenting the Craftsmanship Awards in 1972. Nearly 650 construction professionals have received the awards. The Craftsmanship Awards go to the men and women directly responsible for the outstanding work performed, rather than only the company behind the project.
Seven companies were also honored with Safety Awards. These companies have taken extraordinary steps to protect their employees. Five high school seniors were awarded as Craftsmen of the Future because of their excellence in construction-related courses.
"Each year MABX recognizes the highly skilled craftspeople whose talent and skill have built the region that we call home," said MABX Executive Director Chad Harvey. "This year's Craftsmanship Awards winners are the latest in a long history of outstanding honorees and we're pleased to come together this evening to celebrate their achievements."
Mid Atlantic BX is a trade association dedicated to connecting the construction industry. With its products and service offerings, MABX supports the business development efforts of its members and promotes the growth of the construction industry. MABX provides real-time, online access to thousands of regional new construction projects annually, along with project blueprints, specs, addenda, bid lists and other pertinent bidding documents.
From the Construction Buyers Guide, Construx online magazine, industry-specific training seminars and networking events, Mid Atlantic BX connects the construction industry from project concept through completion.
For more information about Mid Atlantic BX, contact Meghan Tinkham at (717) 234-3255 or meg(at)midatlanticbx(dot)com. Visit our awards website at MidAtlanticBX.com/Awards.
# # # #