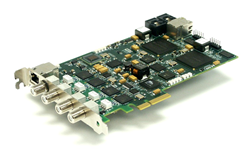 Complies with ITU-T J.83 standards for Annex A, B, and C - giving the adapter world-wide compatibility right out of the box.
Slinger, WI (PRWEB) March 28, 2014
VideoPropulsion® (OTC:VPTV), now in its 40th year of continuous operation, is thrilled to announce the expansion of its line of PCI/PCIe modulator cards with the launch of the QN24e. Sporting a whopping 24 QAM channels on a single adapter, the DVB-C standards compliant QN24e also includes two on-board gigabit Ethernet interfaces.
VideoPropulsion offers a QN24e software development kit (SDK) that includes 32-bit and 64-bit drivers along with sample command-line applications supporting a number of host computer operating systems including Linux and FreeBSD, and Windows. The SDK provides documentation that allows OEM system builders to quickly prototype and build their own MPEG stream processing systems for multiplexing and modulating MPEG-Systems Transport Streams.
The QN24e collects and multiplexes MPEG single program transport streams (SPTS) directly from memory. The resulting multiple program transport streams (MPTS) are then modulated and transmitted with integrated up-conversion from 50 to 860MHz. The QN24e can operate in 16, 32, 64, 128, and 256QAM with variable symbol rates up to 7Msymbols/second, with Forward Error Correction(FEC), and complies with ITU-T J.83 standards for Annex A, Annex B, and Annex C – giving the adapter world-wide compatibility right out of the box.
"Continuously pushing the envelope of higher density solutions while lowering the per-stream cost of our QAM solutions is a hallmark trait of our engineering team," said Joe Nordman, Vice President of Engineering – now in his 30th year with VideoPropulsion. "The launch of the QN24e is quite a remarkable achievement, and we're already hard at work to achieve an even higher density QAM solution on a single PCIe form factor this year."
The QN24e is available directly from VideoPropulsion.
About VideoPropulsion
Now in it's 40th year, VideoPropulsion has been a world leader in hardware and software for high performance, low cost per stream, digital content manipulation, and has established a reputation for providing unique HDTV, VoD, and IPTV products. The Company offers revolutionary FloodGate satellite and CATV transcryption appliances as well as OEM computer modules for a variety of applications, including streaming, multiplexing, demultiplexing, modulation, demodulation, transcoding, encryption, and splicing MPEG formatted data.
For further information, contact:
Kathy Cain
Vice President of Sales
VideoPropulsion
255 Info Highway
Slinger, WI 53086
(303) 810-8255
sales(at)videopropulsion(dot)com
http://www.videopropulsion.com
VideoPropulsion and FloodGate are registered trademarks of VideoPropulsion
Interactive Television, Inc.