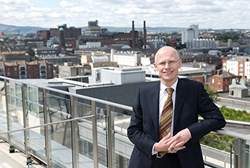 Robert comes to the company with extensive experience in the areas of Business Development, Strategic Development, Sales, Training and Industrial Automation.
(PRWEB) March 28, 2014
Following its expansion into the UK and Irish market, Suntico have announced the appointment of Robert Steininger as its new Head of Marketing. An industry veteran of over twenty years, Robert comes to the company with extensive experience in the areas of Business Development, Strategic Development, Sales, Training and Industrial Automation.
Originally from Austria, Robert joined the Industrial Services Division of Siemens in 1989. Here he specialised in beta installations and emergency breakdowns before moving into international project management, assuming responsibility for industrial large-scale plant automation projects.
Additional responsibilities in the area of sales led him to a business development role with Siemens Energy Automation in the United States, where he moved in 1998 to establish a new Siemens business unit, which grew from zero to seven million USD in three years. Moving to Ireland in 2004, Robert started his own business in conjunction with ActionCOACH – the world's leading business coaching firm.
Pursuing his long-time interest in renewable energy, he branched out from coaching and training to develop a speciality consultancy in the area of green business and renewable energy. In this capacity, he has advised companies on business strategies and energy efficient products, performed consultancy work on large scale heat recovery projects in China for German bank KFW and has given keynote speeches at a number of conferences and workshops.
This appointment is the latest in a period of growth for Suntico, an online workplace designed for users of Sage accounting software. The company recently announced the launch of its product in the UK and Ireland, following the development of a connector compatible with Sage 50 Accounts. Suntico is also currently available in the United States for Sage 50 US (formerly Peachtree) and in Canada for Sage 50 Accounting (formerly Simply Accounting).
Linking seamlessly to Sage accounting records, Suntico takes accounts information from outside the confines of the accounts department and transforms it into a company-wide workplace. It saves busy SMBs time managing their customer relationships and transactions by providing instant access to relevant business records, notes, tasks and discussions.
Derek Stewart, CEO, said of Robert's appointment: "I am absolutely thrilled to have Robert on board. His skills and experience will be invaluable to us during this extremely exciting time for our company. We just know he's going to be a fantastic asset."
A believer in social responsibility and sustainable living, Robert is a founding member of 'The Green Village' in Malahide. In his spare time, he is developing a custom designed home automation system and enjoys time out and about with his wife and two kids.
About Suntico
Suntico, the online workplace designed especially for SMBs that use Sage accounting software, it saves people time while managing their business relationships and transactions. It transforms previously inaccessible Sage 50 records into a company-wide workplace, allowing users to find, share and discuss transactions and accounts through any computer, tablet or smart phone.