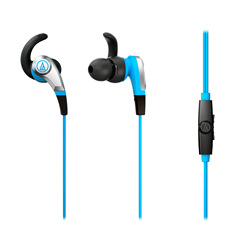 On Mother's Day, what would be better than a gift that lets moms unwind and listen to favorite music while relaxing or working out?
STOW, Ohio (PRWEB) March 27, 2014
Moms lead busy lives, and on Mother's Day, what would be better than a gift that lets them unwind and listen to favorite music while relaxing or working out? Audio-Technica's SonicFuel ATH-CKX5iS, SonicSport ATH-CKP200iS and QuietPoint ATH-ANC33iS noise-cancelling headphones are in-ear smartphone-compatible, offer exceptional sound quality and comfort and are sure to be appreciated by moms everywhere.
The SonicFuel ATH-CKX5iS (SRP: US$49.95) in-ear headphones combine total comfort with outstanding sound quality and smartphone compatibility. It features Audio-Technica's exclusive 360-degree rotating eartips that adjust to the angles of the listener's ear canals, helping to create a comfortable, perfect seal for maximum bass impact and sound isolation. In addition, the ATH-CKX5iS comes with four sizes of eartips (XS, S, M and L) and three sizes of ergonomic C-tip earpieces that nestle in the ear for a stay-in-place fit.
The ATH-CKX5iS has a microphone and a cord-mounted remote that works with Apple® iPhone®, iPad®, iPod®, and other compatible smartphones and portable devices from companies like Samsung, HTC and more, enabling users to answer calls, control media and adjust volume. Its high-quality compact drivers deliver outstanding sound quality with impactful bass and isolation from outside noise. The ATH-CKX5iS is available in black, white, red, blue and green and comes with a carrying pouch. Also available are the SonicFuel ATH-CKX7iS (SRP: US$79.95) and ATH-CKX9iS (SRP: US$99.95), for a complete selection of colorful, comfortable, great-sounding in-ear headphones moms will be sure to enjoy.
Audio-Technica's SonicSport ATH-CKP200iS ear hook-style in-ear headphones are perfect for active moms. The superior-sounding, smartphone-capable ATH-CKP200iS (SRP: $US44.95) has an IPX5-certified waterproof rating and is sweat-proof and washable. Its hinged ear hook adjusts around the ears for a perfect fit. Its handy, cord-mounted in-line remote control lets the wearer control music track selection and volume on the fly, without having to reach for their smartphone or portable music player.
Available in black, yellow, red and blue, the ATH-CKP200iS comes with both standard silicone and ridged XS/S/M and L eartips to provide a choice of greater sound isolation or allowing in a low amount of ambient sound for greater safety outdoors. The ATH-CKP200iS is supplied with a cord clip and 2-foot (0.6 m) extension cord.
Every mom needs a little peace and quiet sometimes, and the QuietPoint in-ear ATH-ANC33iS (SRP: US$79.95) offers up to 90% noise-cancellation and smartphone capability, with a volume control with an inline mic/control for answering calls and controlling music. Like the SonicFuel and Sonic Sport models mentioned, the controller enables the user to play or pause music, answer and end calls, and go to the next or previous track.
The ATH-ANC33iS comes with Comply Foam™ Tips for unmatched comfort. The Comply ear tips are made out of special memory foam that expands to fit comfortably in the ear canal, for a more sound isolating fit and superior sound quality with better bass response, a detailed midrange and extended treble. The headphones also come with standard silicone eartips in S, M and L, a soft carrying case, an airline adapter and an AAA battery.
Celebrating over 50 years of audio excellence, Audio-Technica is renowned worldwide for a broad range of consumer and professional audio products, including high-performance headphones, microphones, wireless systems, turntables and phono cartridges. Winner of numerous industry awards, Audio-Technica designs and manufactures products that set quality, durability and price/performance standards for major concert tours, broadcast and recording studios, corporate and government facilities, theaters, house-of-worship venues, and consumer applications. Learn more at http://www.audio-technica.com.
# # #
— For more information on the complete range of Audio-Technica products, contact Karen Emerson or Crystal Griffith, Audio-Technica U.S., Inc., 1221 Commerce Drive, Stow, OH 44224. Tel: (330) 686-2600; Fax: (330) 688-3752.
— For further information regarding product availability and pricing in the United Kingdom, please contact Harvey Roberts (hroberts(at)audio-technica(dot)co.uk); or visit our media centre at http://www.starscreamcommunications.com; in Germany, please contact Carlos Diaz (cdiaz(at)audio-technica(dot)de); in the rest of Europe, please contact Evangéline Pirot (epirot(at)audio-technica-europe(dot)com).
Apple, iPod, and iPad are trademarks of Apple Inc., registered in the U.S. and other countries. iPhone is a trademark of Apple Inc.