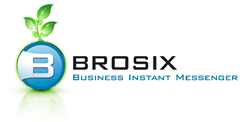 Year in and year out, we consider what we can do to better the environment.
(PRWEB) March 28, 2014
As one of the top instant messaging platforms in the world, Brosix helps people all over the world communicate with one another without harming the environment along the way.
Thanks in large part to technology, fewer business people are forced to travel, via car or plane, to meet with coworkers, clients, and prospects.
Every year on April 22, Brosix, along with more than a billion people spanning nearly 200 countries, takes action on Earth Day. If it has anything to do with saving the environment, this is one of the best days of the year to take action.
Just the same as those in the past, Earth Day 2014 will focus on dealing with many of the environmental challenges that continue to face the world.
Brosix CEO Stefan Chekanov is once again looking forward to Earth Day, saying the following:
"At Brosix, we take great pride in knowing that our instant messaging application allows people to communicate in an environmentally friendly manner. This is very important to us as a company, which is why we look forward to Earth Day every year."
Brosix is just one of the many companies throughout the world that will take the time on April 22 to realize that they have what it takes to make a positive change.
"Year in and year out, we consider what we can do to better the environment. This starts with our instant messaging platform and goes all the way down to changes we have implemented within our office."
To learn more about Brosix, including what their instant messaging program has to offer, please visit http://www.brosix.com.
About Brosix
Brosix offers all-in-one instant messaging incorporating audio and video calls, sending screenshots, co-browsing, whiteboard and desktop sharing technology to provide an easy-to-use online meeting solution for high-quality online business collaboration. Used by more than 100,000 registered users, Brosix customers consist primarily of small- to medium-sized businesses. At present, more than 10,000 corporate customers in over 70 countries worldwide are using the Brosix private instant messaging networks and benefiting from significantly reduced travel time and travel expenses. Launched in 2006, Brosix is continuing to provide great enterprise instant messaging software to thousands of users around the world.