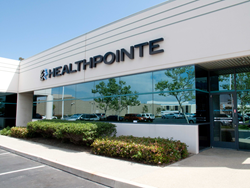 La Mirada, CA (PRWEB) March 27, 2014
Healthpointe is proud to offer the assessment, fabrication, and customization of custom and OTS orthotic braces and prosthetic limbs as one of its highly specialized services.
Healthpointe medical clinic is boldly exploring the use of artificial structures, such as prosthetics and braces, to help strengthen and modify the skeletal system. Major anatomical structures such as the arms, hands, feet and legs are solid examples of the complexity that is the human body. Once these structures are damaged they are difficult to repair. Using lightweight yet highly durable materials such as carbon-fiber composites to form the artificial skeleton, the prosthetists at Healthpointe can emulate virtually any missing body part.
Offering board certified prosthetists and orthotists, the Healthpointe team is ready to use its wide range of skills to unite mechanical devices with biological limbs. The prothetists at Healthpointe will work with the needs of the patient to help create a functional and advanced artificial limb in order to regain essential capabilities. Additionally, Healthpointe's highly trained orthotists will prevent or correct deformed and depleted joints through the use of braces and inserts. Offered orthotics include: custom molded foot orthotics, fracture bracing, cervical braces, hip-abduction braces, Scoliosis braces, and wrist, hand and shoulder braces, and more.
When it comes to comfort, skeletal repair, and damage prevention, Healthpointe is proud and ready to offer its prosthetic and orthotic patients the highest level of service. Healthpointe's services are offered during regular business hours: Monday-Friday 9-6. For more information, contact Healthpointe at (888) 824-5580 or visit http://www.Healthpointemd.net.
About Healthpointe:
Healthpointe is a leading multidisciplinary healthcare organization offering a full range of medical services in practice locations throughout Southern California (Los Angeles, Orange, San Bernardino and Riverside counties). As a highly regarded musculoskeletal group, we have a personal investment in the highest level of service, and we are proud of our record of excellence over the last four decades with private patients, injured workers, urgent care, personal injuries, and professional and non-professional athletes. Leading our organization is a dynamic team of healthcare professionals who continually strive to be at the forefront of medical innovation and healthcare service delivery. For more information, a complete list of services, and Healthpointe locations, visit http://www.Healthpointemd.net