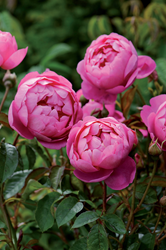 As a group, the 2014 David Austin introductions represent the full range and diversity of today's English Rose breeding.
Tyler, TX (PRWEB) March 28, 2014
For spring 2014, David Austin Roses of Shropshire, U.K. introduces five exquisite English Roses to North American gardeners. The roses represent a diverse offering, ranging from the deep crimson, fully-double flowers of 'Heathcliff' to the medium-sized semi-double apricot-hued flowers of 'The Lark Ascending'.
All are vailable by mail order from http://www.davidaustinroses.com. The five new 2014 English Rose introductions are:

'Boscobel', a classic English Rose with pretty cupped flowers that evolve over time from deep salmon to deep pink, and a delightful myrrh fragrance with hawthorn character laced with hints of elderflower, pear and almond;
'Heathcliff', a brilliant new deep crimson addition to this hard-to-achieve color range, with a beautifully shaped flower and singular fragrance of Tea Rose and Old Rose played off a minor base note of elegant dry woody cedar;
'Tranquillity', a glistening white rose in a perfectly rounded rosette shape, with a crisp light apple fragrance;
'Royal Jubilee', a stand-out beauty even amongst other English Roses, 'Royal Jubilee's luscious, large, deep pink semi-double flowers are presented on an airy upright bush of exceptional strength;
'The Lark Ascending', a very different look in an English Rose, with gently cupped flowers of just 22 petals in a heavenly warm apricot shade splashed with gold at the centers.
"As a group, the 2014 introductions represent the full range and diversity of today's English Rose breeding," said David Austin's senior rosarian, Michael Marriott. "I should think that every rose lover might find a variety that excites in this collection."
Marriott feels that North American gardeners will find the 2014 introduction 'Boscobel' particularly pleasing. "This is an absolutely classic English Rose with an especially delightful fragrance," he said. "Its full blooms are perfectly formed, with small petals that present varying shades of color over time, evolving from red in the bud stage to rich salmon then deep pink."
He also finds 'The Lark Ascending' particularly suited to North American growing conditions, citing its tough-as-nails performance in the garden or landscape. Though, with his very British aversion to effusion, Marriott prefers instead to call the variety, "vigorous with exceptional health."
David Austin's English Roses are prized the world over for combining the classic flower forms and perfume of Old Roses with desirable attributes of modern roses. Austin's breeding focuses on garden performance, including health, vigor and disease resistance, as well as color, fragrance, season-long blooms and full bushes. When all other criteria are satisfied, the rose's overall charm and beauty decide whether a breeding candidate becomes an official English Rose.
English Roses grow in full sun or partial shade, though planting under tree canopies should be avoided. English Roses chosen for sale in the U.S. and Canada are selected to thrive under the varied conditions across the continent, within each variety's designated hardiness zone.
Order Early for Spring Delivery
David Austin English Roses are available in the U.S. and Canada by mail-order as bare root stock, with orders taken year-round by phone or online. As always, those choosing new introductions should order early, as should those in warmer areas. The roses are sold on a first-come basis. No matter how early an order is placed, all roses are shipped only at the correct time for planting in the recipients' areas.
To order, visit http://www.davidaustinroses.com, call 800-328-8893, or write to David Austin Roses Limited, 15059 State Highway 64 West, Tyler, Texas 75704. Today, the U.S. and Canadian mail-order collection features more than 200 bare root roses, including 132 Austin-bred English Roses. All David Austin roses sold in North America are specially selected for North American growing conditions and climate zones. All are grown and shipped within North America.