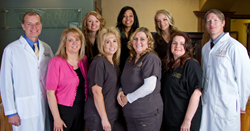 SLC, UT (PRWEB) March 29, 2014
In light of recent myths and blanket statements about the risk of LASIK surgery that have been circulating in pop culture including the popular TV show Dr. Oz, (http://www.doctoroz.com/episode/undercover-lasik-surgery-investigation) Dr. Brian Davis of Davis Vision Center in South Jordan, UT is emphasizing the the safety and effectiveness record LASIK has achieved over the past decade. LASIK surgery has helped millions of patients around the world finally break free of their reliance on glasses and contacts, and on average, less than 2 percent of patients experience complications.
"LASIK surgery is one of the most heavily tested and regulated procedures in the U.S., and we encourage everyone to look at the facts and statistics before automatically assuming that the procedure could pose a risk to their vision, rather than correcting it," said Dr. Brian Davis. "As with any invasive surgical procedure, there is always a chance of complications, but in the case of LASIK, the likelihood of benefiting from the procedure far outweighs the minute chance that a complication could arise."
In fact, LASIK surgery has received such impressive safety ratings that it has been adopted by the U.S. military to decrease troop's reliance on corrective eyewear. The military itself has conducted more than 45 independent studies on the safety and effectiveness of the procedure, and found that only one in 100,000 patients experience complications severe enough to interrupt their everyday duties.
At Davis Vision Center, Dr. Davis carefully screens patients who are considering LASIK surgery for vision correction to determine if the procedure will be both safe and effective for their situation. This LASIK screening process involves considering the age of the patient and the general health of the eyes, as well as testing for dry eyes, pupil size in various light, ocular pressure, corneal topography, and corneal thickness. Dr. Davis and his staff will not offer the procedure to those who they feel in their professional opinion will not be likely to have an ideal outcome.
To ensure that his patients have the best chance at experiencing ideal outcomes after LASIK, Dr. Davis uses some of the most advanced technology at his practice to improve accuracy and safety. The procedures Dr. Davis performs are entirely blade-free and use advance technology to provide 3D eye mapping and iris registration. While each LASIK procedure is extremely intricate and complex, experienced eye surgeons can complete the entire procedure on both eyes in less than one hour.
Dr. Davis himself has performed more than 27,000 LASIK procedures and is one of the most experienced eye surgeons in Utah. He was one of the first in the state to perform LASIK procedures starting in 1996.
To learn more about Dr. Davis and the LASIK procedure he offers at Davis Vision Center in South Jordan, UT, please visit http://www.davisvisionmd.com.