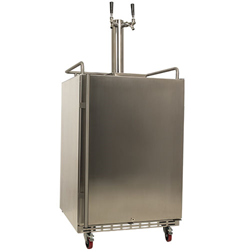 Austin, TX (PRWEB) March 28, 2014
Kegerator.com recently added four powerful full sized kegerators from the EdgeStar KC7000 Series to its already robust lineup. They retail from $1,399.00 to $1,699.00 which makes them part of the select few high end in-home kegerators available on Kegerator.com. As with all EdgeStar products consumers can expect highly energy efficient design with an emphasis on saving space without sacrificing quality, durability, or affordability.
The entire KC7000 Series boasts a number of features which are included across each model as well as unique functionality built into each model. The introductory option is the KC7000SS at $1,399.00.

The KC7000SS stands at a less than 35 inches tall and a width of less than 24 inches which makes it a perfect fit into any living space. This stainless steel, full size built-in kegerator features front ventilation which allows it to seamlessly be built into cabinetry while still ensuring evenly distributed cold air throughout the entire system. It includes numerous premium draft components including a 5lb Luxfer CO2 tank, dual-gauge regulator, NSF PVC beer line, and stainless steel faucet with black tap handle.
The most robust option is the KC7000SSODTWIN model. It stands a little less than 35 inches tall with a width of less than 24 inches while still offering a dual tap. Like the KC7000SS counterpart, it is engineered as a built-in kegerator, although the wheel placement ensures it is easy to use and move through multiple living areas. The electronic control panel makes it easy to adjust important settings to maximize the flavor of the beer being served. The control panel allows adjustments to be made to the internal temperature and interior lights. The interior lights are LEDs which helps the unit minimize energy consumption and reduce internal heat emissions.
Kegerator.com is well-known for offering high quality; high value kegerators at low prices, noted Kari Hall, Director of Category Management. "At the same time, we felt there was a growing need to add more high-end full sized kegerators to our lineup to guarantee there is something to meet everyone's needs in every price range."
She went on to state, "EdgeStar has proven to be a consumer favorite in the past so their KC7000 Series full size kegerators were a natural choice for the $1,300+ price point. They are reliable, energy efficient, and designed to fit in a variety of different types of living spaces."
Kegerator.com is a website owned and managed by the Living Direct family. Visit the Kegerator.com website or their learning center at http://learn.kegerator.com.