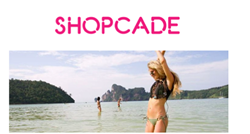 (PRWEB) March 29, 2014
With the travel season fast approaching, the world's largest social shopping app, Shopcade has partnered with the #1 travel company for 18-35 year olds, Contiki, to ensure that their vacations are fashion-packed. From Spring Break Getaways on the beaches and reefs of Australia to Globetrotting to the islands of Greece, Contiki's Shopcade-branded 'lists' will ensure that travelers have everything they need to stay stylish in the sun.
Targeting the young, fashion-conscious consumer, Shopcade allows users to flick through and buy the latest fashion, blogger trends and celebrity styles all in one place. Working with the likes of Topshop, ASOS and Urban Outfitters, Shopcade will help young travelers find what to wear and pack for their spring/summer destinations. Each week Shopcade will feature shopping guides to provide a fresh perspective on how to shop and plan for upcoming travel.
Shopcade will compile vacation and festival themed looks in lists under the following titles: Sun Worshipper, Thrillseekers, City Breaks, Chic Camping, Spring Getaways, Roadtrippers, Globetrotters, Buongiorno Italia, Sail Away, Culture Vulture, Wandering Style and Festival Lover.
The 12-week partnership will also feature the chance to win a Mexican vacation along with other travel essentials from Boohoo, Boticca and Panasonic, including an exclusive Contiki festival survival kit.
The lists work in coordination with Shopcade's ingenious algorithm that highlights what is trending with users to truly facilitate the discovery, shopping and sharing of products online. Contiki's mantra of making every moment count, looking back with absolutely no regrets is all about discovery, perfectly aligning to what Shopcade brings to its community. With over 720,000 active consumers leafing through over 150,000 high street brands daily, Shopcade is to be the one-stop shop for fashion lovers all over the world.