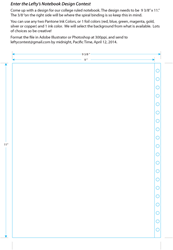 San Francisco, CA (PRWEB) March 31, 2014
Lefty's The Left Hand Store is holding a design contest for the best left-handed notebook cover. The first place winner will receive $250 in cash, and the 2 runners up will receive $100 gift certificates to thelefthandstore.com.
Thelefthandstore.com has the world's biggest selection of left-handed spiral notebooks, a must for lefty students and businesspeople. However, some customers love the function of the notebooks, but don't want to advertise their left-handedness that way. They have requested that Lefty's include left-handed notebooks with a purely graphic design.
Thelefthandstore.com regularly introduces fresh designs to lefties who need notebooks every year. For the 2014 Fall Season, the store wants to add notebooks for those left-handed customers who want great design, but don't want their notebooks to announce their left-handedness.
The Left-handed Notebook Cover Design Contest criteria include a simple template showing the correct size and format. Entries should be emailed to leftycontest(at)gmail(dot)com by midnight Pacific Time on April 12, 2014.
Lefties are creative, and many have a strong sense of design. Thelefthandstore.com hopes to showcase left-handed talent, and to make it available to the left-handed community.
See the range of left-handed notebooks currently available, both college-ruled and wide-ruled. Visit Lefty's The Left Hand Store at PIer 39, San Francisco,in The Marketplace, Downtown Disney, Walt Disney World Resorts in Orlando, FL, and at Old Town Kissimmee, FL.