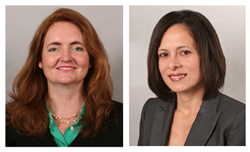 Maria and Sandy are two dynamic leaders who have the vision, the values and the passion to help lead our firm into the future.
CHICAGO, IL (PRWEB) March 31, 2014
Neal, Gerber & Eisenberg LLP today announced two promotions within the firm's Professional Recruitment & Development and Human Resources departments.
Maria Minor has been promoted to Director of Professional Recruitment and Development. Minor most recently served as Professional Development & Pro Bono Manager. In addition to managing attorney training and development and the firm's pro bono and community service programs, Minor will oversee all attorney and paralegal hiring and evaluations. Minor has a long-standing history with the firm. Prior to taking on these roles, Minor was a "homegrown" attorney who came through the ranks of the firm as a summer associate, associate and partner in the General & Commercial Litigation practice group.
Sandy Pleckaitis has been promoted to Director of Human Resources. Pleckaitis most recently served as Senior Human Resources Manager. During her time with Neal Gerber Eisenberg, she has earned the respect and confidence of managers and staff alike. In her new role, Pleckaitis will implement core competency systems throughout the firm and continue to heighten the professionalism of the firm's administrative support staff. Pleckaitis has more than 20 years of HR experience. Prior to joining the firm, Pleckaitis was the Director of Human Resources at The Boston Consulting Group for 12 years.
"Maria and Sandy are two dynamic leaders who have the vision, the values and the passion to help lead our firm into the future. These staff changes further enable the firm to train, champion and coach the firm's attorneys and administrative support staff," said Managing Partner Jerry Biederman.
ABOUT NEAL, GERBER & EISENBERG LLP
Neal Gerber Eisenberg is a Chicago-based law firm whose lawyers share a culture of teamwork and devotion to personalized client service to advance clients' business interests throughout the U.S. and beyond. Our lawyers provide legal business solutions to public and private entities of all types in connection with domestic and global business transactions and litigation. Our client base reflects a number of Fortune 100 companies, financial institutions, nonprofits and high net worth individuals. Although the firm has one office in Chicago, it represents clients throughout the world. A steadfast devotion to our single-office concept ensures that our clients will never get lost in a shuffle of thousands of lawyers or multiple worldwide offices. With 160 attorneys, the firm is suited to handle nearly any legal matter, yet small enough so clients personally know the lawyers accountable to their matters.