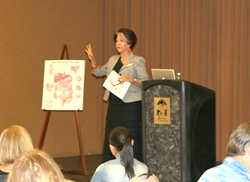 If you improve your digestive system you will also improve your immune system.
Upland, CA (PRWEB) March 29, 2014
World Gardens Café and Innerhealth Care Center are pleased to present Digestion 101 Workshop. The free workshop will be held on Wednesday, April 2nd, at Foothill Kitchens from 6pm to 8pm, and will include a complimentary tasting of World Gardens Café's food to attendees who pre-register. The workshop is open to everyone and will discuss dangerous illnesses and diseases caused by faulty digestive systems, how to eliminate undigested and fermented food that can compromise the immune system and healthy eating habits.
According to World Gardens Cafe, between 70 and 80 percent of your immune system resides in your digestive track. The Digestion 101 Workshop addresses the true importance and function of the digestive system.
"If you have ever eaten junk food, sweets, caffeine, soda, or chemically treated or preserved food, you will benefit from this class," says Rachel Wolfinbarger of World Gardens Café.
World Gardens Café provides healthy, fully-prepared, gourmet meals and delivers them directly to the doors of residents in California, Nevada, Utah and Arizona. World Gardens Café offers a variety of healthy meal options for any diet.
"Many people have special dietary needs, whether for weight management, glucose intolerance or celiac disease, we make sure you can have healthy, convenient choices without sacrificing gourmet flavor," says Wolfinbarger.
For more information on fully prepared healthy gourmet cuisine from World Gardens Café or for information or to register for the on the Digestion 101 Workshop, please visit worldgardenscafe.com or email Rachel at Rachel(at)worldgardenscafe(dot)com.
About World Gardens Café
World Gardens Café's mission is to create a healthier world by providing quick, healthy alternatives to fast food. Their food helps people of all ages and dietary needs live longer, healthier lives. As the premier provider of home-delivered, fully prepared, healthy gourmet cuisine, World Garden's Cafe specializes in providing gluten-free frozen meals to clients in California, Arizona, Nevada and Utah. The delicious and flavorful meals are prepared by celebrity Chef Ravi and are then carefully packaged, frozen, and delivered to consumers' homes. Customers can purchase food online or via phone, and have the convenient option of delivery or local pickup at Foothill Kitchens which is located at 360 W. Foothill Blvd, in Upland, CA.
For more information visit http://www.worldgardenscafe.com, like WGC on Facebook and Follow WGC on Twitter.