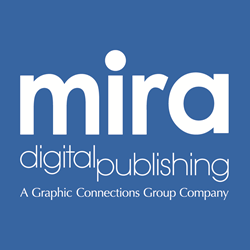 Chesterfield, MO (PRWEB) March 27, 2014
Mira Digital Publishing recently purchased a state-of-the-art PUR binder for paperback books. At the moment, fewer than 10% of book printers use PUR binding. Mira strives to be on the leading edge. PUR binding uses polyurethane reactive adhesive, which offers superior adhesion to all types of papers, coatings, and spine widths.
A very common problem in the digital printing industry is pages falling out – especially in books that have toner all the way into the gutter of the pages. PUR binding completely eliminates that problem. Books bound with PUR adhesive will hold together under heavy use and thousands of open and closes.
Because PUR adhesive is applied as a very thin layer, it is extremely flexible. This allows the book to lie flat when open. It also means there is less of a chance for the adhesive to build up on trimmer knives and nick the cover during the trimming process. The lower operating temperature does not drive moisture away from the book's backbone, so there is no wrinkling in the book's gutter area. PUR bound books will not fail in extreme heat or cold and are resistant to solvents and oils.
Mira Digital Publishing is a subsidiary of Graphic Connections Group, LLC, and has been serving clients nationwide since 1992. Mira specializes in printing all types of books for self publishers. Jeff or George can be contacted at (636) 519-8320.