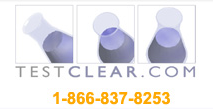 (PRWEB) March 27, 2014
Substances that were taken last night, substances that were taken within the last week and even the substances that were taken sometime during last New Year's Eve – these are all embodied within an individual's system from the moment consumption or ingestion takes place. With TestClear's line of substance analysis products, examinations have never been more efficient.
Not so long ago, times were different and the body was considered inviolate, an area that the law could not enter or intrude upon. However, with mad science and contemptible courts decisions, consumers have had substances analysis implemented into becoming a part of American life. TestClear has made its way into becoming a major player in a multibillion-dollar-per-year industry that exists solely to break down the body for the benefit of its intended user.
TestClear believes that consumers should be provided with a product that is created by individuals with an unrivaled level of education, knowledge, and skills. A compassionate company that is completely consumer-centered, Test Clears strives to make drug analysis examinations a process that is neither complicated nor stressful.
TestClear does not want consumers to get caught in the fallacy of using water-based remedies or urban legend detoxification scams. The TestClear drug analysis solutions are proven remedies that present no error in being able to properly detoxify an individual's body.
With an inventory that is solidified by a multitude of bodily analysis options, TestClear features a 10-day detoxification system, 7-day detoxification system, 5-day detoxification system, 4-day detoxification system and a 3-day detoxification system known as Toxin Rid.