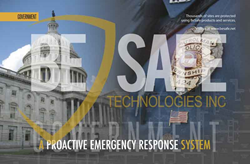 "Rapid Safety Assessments are an inexpensive method a municipality or school district can use to quickly identify areas of concern for a facility" - Tom McDonald, CEO, BeSafe Technologies, Inc.
(PRWEB) March 28, 2014
BeSafe Technologies, Inc. is pleased to announce that it's CEO, Tom McDonald, will be speaking at a series of three statewide Spring Conferences sponsored by the Massachusetts Interlocal Insurance Association and AllOne Health resources. The March 12, 19 and 27, 2014 forums are part of MIIA's Rewards Program, which were developed "to help reduce municipal and pool loss experience, educate members on issues of topical interest and establish prevention and maintenance best practices while also rewarding members for implementing innovative programs. This translates into providing members with tools that increase the depth of their knowledge in effectively handling situations that impact their loss experience"
Mr. McDonald will join other municipal and industry leaders at the Forums and present in depth,BESAFE- How to Conduct a Security and Risk Assessment of Your Facilities, where participants will learn specific steps they can take in their own communities to improve safety and security for their staff, their citizens and their communities, and as a result reduce their risk and exposure through the implementation of a systematic comprehensive plan of action.
About BeSafe Technologies, Inc.
BeSafe Technologies provides first responders with advanced information about a facility's physical layout, surroundings and access points before arriving at a location, thus enabling responders to expedite their intervention. This includes aerial imagery and digital photographs of all facades, entrances and egresses, the location and description of hazardous materials and critical utility shut-offs. This allows first responders to know the exterior surroundings of the property, access routes, and a view of all entrance and escape points, as well as asset identification, enabling pre-planning of evacuation and response. The information is distributed electronically to emergency response agencies and is accessible from most police and other emergency vehicles. BeSafe's systems are currently implemented in approximately 2,500 end user sites, including over 150 school districts and colleges across 10 states, and numerous hospitals, law enforcement agencies or toll free (866) 216-5649.
BeSafe Technologies, Inc. || 8317 Harps Mill Road, Raleigh, NC 27615 || http://www.besafe.net