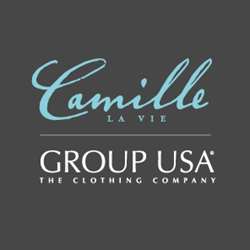 We are so excited to broaden our store locations and to provide our new customers with a rewarding and unforgettable shopping experience
Secaucus, NJ (PRWEB) March 27, 2014
Camille La Vie & Group USA recently announced that they will be opening a new store location in Pembroke Lakes Mall located in Pembroke Pines, Florida on Friday, March 28th 2014. The store's grand opening is scheduled to launch on Saturday, April 12th 2014. And to kick off this exciting event, they will be offering a gorgeous free gift with purchase, while supplies last, and models will be walking through the store showcasing the latest hot Camille La Vie looks.
In keeping with the company's on-trend fashion approach to social occasion dresses, the new store will house a robust collection of the most coveted looks for prom, homecoming, bridal and many other chic party events. And taking a modern and fresh approach to interior design, the new location's décor will complement its gorgeous merchandise, featuring luxurious flooring, sparkling chandelier fixtures, plush velvet draperies and full-length mirrors in the fitting rooms. The brightly lit and stunning aisles will create a convenient shopping experience, while maintaining a high-end, boutique feel. In addition, experienced Camille La Vie stylists are available to assist customers in creating "red carpet ready" looks for all occasions. The company firmly believes in establishing long-lasting relationships so that customers receive the ultimate shopping experience each time they visit Camille La Vie.
"We are so excited to broaden our store locations and to provide our new customers with a rewarding and unforgettable shopping experience," says Denise Viotti, President of Camille La Vie & Group USA.
About Camille La Vie & Group USA
Camille La Vie & Group USA is a one stop boutique to all things party dress chic in prom dresses, homecoming dresses, wedding dresses, social separates, day into evening dress styles, bridal, formal accessories, jewelry and shoes. They offer one of the most extensive and stylish collections of special occasion dresses that can be found under one fabulous roof! Since its inception in 1985, the company's motto of "to provide customers with the latest dress fashions at an affordable price" has made them a leading retailer in virtually all categories. To date, Camille La Vie & Group USA has expanded to a total of 24 stores nationwide.
In select Camille La Vie & Group USA stores, customers will discover a collection of bridal apparel including wedding dresses, bridesmaid dresses, flower girl dresses, mother of the bride dresses and guest of wedding dresses. Camille La Vie & Group USA also provides bridal alteration and consulting services. So whether your style is classic and elegant or modern and chic, Camille La Vie & Group USA will outfit stylish women of all types without breaking their bank!
If you're in a committed search to score a certain dress style, Camille La Vie & Group USA is your one-stop source for all things pretty – from on-trend high to low dresses, mirror stone and chunky beaded bodices, bright and bold hues, florals and animal prints, handkerchief, godet and trumpet hemlines, subtle detailing or all over sequins, one shoulder, crisscross back or cut out silhouettes to cascading ruffles and fun, frilly poof A-line skirts in tulle, Camille La Vie & Group USA's fashion styles are seemingly endless! And the options do not just stop there. Follow Camille La Vie on Instagram and Twitter at @camillelavie, as well as on Facebook and Pinterest.