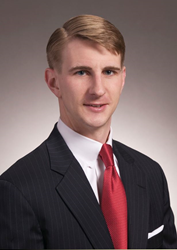 We are thrilled to have Chris join KRCL and bring extensive knowledge in tax law.
Dallas, TX (PRWEB) March 28, 2014
Kane Russell Coleman & Logan PC (KRCL) is pleased to announce that Chris Harris, Board Certified by the Texas Board of Legal Specialization in Tax Law, has joined the firm's Dallas office. The firm's new tax practice will include transactional tax planning for federal, state and international tax matters.
Chris' practice focuses on tax and corporate law. He has experience with partnership tax matters such as structures for private equity transactions and hedge funds, as well as corporate tax matters involving acquisitions, tax-free reorganizations, redemptions, and liquidations. In addition to his tax law practice, Chris has represented many different estate planning needs, such as traditional wills, trusts, marital property issues, and the creation of private foundations. Chris is Board Certified in Tax Law by the Board of Legal Specialization which is a mark of excellence and a distinguishing accomplishment. He has also been selected for the Texas Rising Stars list, published by Thomson Reuters, from 2011-2014. Chris is also an Adjunct Professor at Southern Methodist University, teaching an Income Tax Planning course focusing on the structure of Internal Revenue Code as it pertains to the taxation of individuals and their businesses.
"We are thrilled to have Chris join KRCL and bring extensive knowledge in tax law," says Mike Logan, director in the Dallas office. "His expertise and skill set will add real value to our clients and serve the firm well."
Kelli's practice focuses on commercial litigation and insurance defense matters, including oil and gas disputes, construction defect litigation, maritime litigation, and insurance coverage matters. In addition, Kelli has worked closely on several multi-million dollar indemnity, e-discovery, and insurance coverage matters.
Kelli was selected by Super Lawyers in 2012 and 2013 to be included on the Texas Rising Stars list, a designation given to lawyers under 40 who are viewed by their colleagues as preeminent in their respective practice areas. She is a member of the Houston Bar Association Communities in Schools section to help provide summer internships for high school juniors, seniors and recent college graduates in the legal profession. Kelli received her Juris Doctor from Texas Tech School of Law in 2007 and her Bachelor of Business Administration in Political Science from Lamar University in 2004.
"We are excited to add another extremely talented attorney to our Houston office," says Chris Pappas, director in the Houston office. "Kelli has already been recognized by her peers for her successes and hard work. We look forward to seeing her abilities in action."
Kane Russell Coleman & Logan PC is a full service law firm with offices in Dallas and Houston. Formed in 1992 with five lawyers, today KRCL has more than 80 attorneys. The Firm provides professional services for clients ranging from Fortune 500 companies to medium-sized public and private companies to entrepreneurs. KRCL handles transactional, litigation and bankruptcy matters in Texas and throughout the country.
SOURCE: Kane Russell Coleman & Logan, P.C.