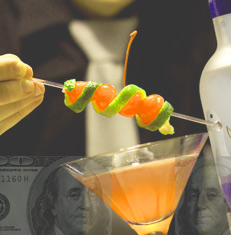 Income differences showed a marked increase in alcohol consumption - 81% for people earning over $75,000.
(PRWEB) March 28, 2014
With alcohol abuse on the rise, the Last Call Program recently completed an analysis of the relationship between alcohol consumption and earnings. Contrary to popular belief, the wealthy are more hammered than the poor these days.
As though it wasn't enough that the rich drink more, another study found that intelligent people also tend to drink more. Children with higher IQ in America, consumed more alcohol as adults. As income, education and social class were all controlled in the study, it appears as though it was their intelligence itself, that made them drink more.
Research conducted by the Centers for Disease Control shows that alcohol consumption went from 58 percent for people with high school degrees or less, to 74 percent for people with postgraduate education. Income differences showed a marked increase in alcohol consumption from 46% for people earning less than $20,000 to 81% for people earning over $75,000.
For the privileged, drinking good wine and cocktails is a social necessity and part of the business meetings and social networking that their careers depend on. Due to increased "social capital" from networking, building relationships and adding contacts, a life of abstinence away from alcohol and the people who use it is a social, business, and personal impossibility for many people. At the very least, exposing a drinking problem negatively affects job, social, and community opinion.
Chronic exposure to alcohol induces changes in neural circuits that control motivational processes including reward, arousal, and stress. These changes, called neuroadaptation, cause the social drinker to drink excessively when they intended to have only a drink or two. Frequent exposure to alcohol produces changes in sensitivity to alcohol's effects and brings about a withdrawal state following discontinuation or reduction of alcohol use. This brings about a whole new set of problems, especially binge drinking.
People with annual household incomes of $75,000 or more are 19.3% more likely to binge drink. Binge drinking means drinking so much within about two hours that blood alcohol concentration (BAC) levels reach 0.08g/dL. For women, this usually occurs after about 4 drinks, and for men, after about 5.
Although it is apparent that the more you make, the more you drink, there is a greater problem. Possibly a sign of the economic times, Gallup recently proved that Americans overall are drinking more heavily now than we have in a quarter of a century. Approximately 18 million Americans need treatment for an alcohol use disorder.
Unfortunately, fewer than 1 in 10 seek treatment and for some good reasons. Dr. Frank Gibson, founder of Avantcare Labs and creator of Sobrexa, explains, "Although there is no single reason why individuals with alcohol problems do not seek treatment, we have identified the most common the reasons. 38% of those individuals state they are not ready to stop drinking, 32% feel the cost is unreasonable and 16% are concerned about job, social, and community opinion."
The Last Call Program and Sobrexa were the first proven option that addressed why practically no one was going into treatment. This program originated over 20 years ago serving an exclusive clientele for which anonymity and rapid success were critical factors. In 2011, the company Program introduced a direct-to-client program adding to their Concierge and Furtherance Programs. The Client Direct Program contributes to the ability for clients to choose treatment that fits their individual needs.
The Last Call Program is widely recognized for its efforts in bringing treatment to those in need and its sensitivity to the preferences of consumers.
Sources: Vital and Health Statistics Series 10, number 245, 2010 U.S. Department of Health and Human Services, the Centers for Disease Control and Prevention and the National Center for Health Statistics.
Heien, D. The Relationship between alcohol consumption and earnings. Journal of Studies on Alcohol, 57, 536-542 Elite Daily, Preston Waters, May 3, 2012