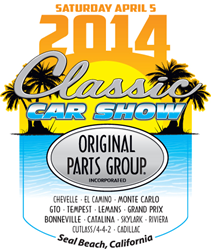 A day of fun in the sun for Southern California auto enthusiasts!
Seal Beach, CA (PRWEB) March 29, 2014
Celebrating over 33 years of manufacturing and retailing GM restoration parts and accessories, Original Parts Group, Inc. (OPGI) will once again host its annual Classic Car Show at OPGI headquarters in Seal Beach, California on Saturday, April 5th, 2014. Everyone within driving distance will want to mark their calendars now because last year's show turned out to be a record breaking event with over 1,000 spectators showing up to check out some 200 beautifully restored classic General Motors cars.
The free event runs from 9 a.m. until 3 p.m. and combines great cars, a variety of aftermarket accessory vendor displays, good food and great music to create the perfect backdrop for a day of fun in the sun for Southern California auto enthusiasts. Those in attendance this year will qualify for many prize drawing giveaways from aftermarket manufacturers and vendors, and get the chance to appear on national TV thanks to live film coverage of the automotive action for later television broadcast. Attendees will also qualify to win valuable OPGI Gift Certificates as well as a chance at the Grand Prize Drawing for a 350 HO Deluxe Crate engine from General Motors. Musical entertainment will be provided on site by Surf City Sound. The Seal Beach Lion's Club will host a pancake breakfast in the morning and lunch later in the day. For more information visit http://www.opgi.com/car-show.asp. See 'ya there!