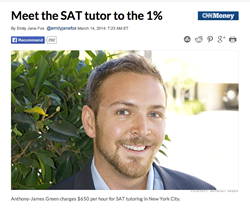 All of this exposure has been an incredible opportunity to speak with parents across the country, and I'll be using this new platform to get accurate, helpful college advice to everyone who seeks it.
New York, New York (PRWEB) March 28, 2014
Parents looking to improve their children's SAT and ACT scores are faced with a nearly impossible decision; there are tens of thousands of different SAT and ACT tutors, classroom courses, and online programs, but due to time limitations and budgetary concerns, parents can choose only one. However, for those fortunate parents able to afford the best of the best, the decision becomes much simpler. CNN's recent article on Anthony-James Green, "the SAT tutor to the 1%," highlighted the incredible score improvements attained by one of the industry's most effective tutors (and the price tag that comes along with such results). In an effort to share his methods and strategies with more students, regardless of economic opportunity, Green will be launching a new resource site full of his best college advice and testing strategies to the public early this April.
While most SAT prep programs raise their students' scores by only 10-20 points on average, Green's students improve by more than 430 points - a number almost unheard of in an industry built largely on marketing dollars rather than results. Due to his remarkable results, and the demands on his time, Green's hourly rate now tops out at $750 an hour for one-on-one instruction, and continues to rise, and Green has earned a reputation as the best SAT tutor in the country. However, Green understands that his rates are out of reach for the average parent, and is making efforts to share his methods with more students unable to work with him personally.
"My one-on-one time is limited," says Green, "but I'm doing as much as I can to share my knowledge elsewhere. I've already launched an affordable online SAT program, with an ACT program launching in June, and the new, revamped Test Prep Authority will be yet another way that families can benefit from my expertise, regardless of whether or not they can afford to work with me one-on-one."
The new online resource center, Test Prep Authority, will contain free guides, downloads, and resources to help parents make the right college decisions and improve their children's test scores. The site will be accessible through Green's current personal booking domain, found at the following URL:
http://www.TestPrepAuthority.com
Green's new personal practice will be accessible through a new site that will launch on the same day as the revamped Test Prep Authority via the following URL:
http://www.AnthonyJamesGreen.com
"At the end of the day, it comes down to an issue of scale," says Green of his new efforts to make his methods more accessible. "I only have so many hours in any given day, and I can only work with a few people each season. Because of the results I've achieved, I get hundreds of requests to work with me each year, and have to turn down most people regardless of compensation. My prices have been driven up as a result of the demands on my time, plain and simple. However, I've found some creative ways to share my knowledge at more affordable prices with students outside my one-on-one sessions, and I'm continuing to make efforts to do so."
Green's most notable effort in this arena has been The Green SAT System, an online SAT prep course with an average score improvement of over 380 points. At a price tag of only $297, including all necessary books and materials, the program costs less than almost any other option on the market, and delivers results 10-20X those of the competition.
Parents and students interested in learning more about Green's online SAT course can visit his site at the following URL:
"The Green SAT System has helped thousands of people to get into their target schools, and the entire effort has proven that a focus on results and real, applicable advice will always outperform efforts based purely on marketing lingo and fancy graphic design. Test Prep Authority is just the next logical step. I can help more parents to make the right college decisions by providing them with solid, practical advice, and launching a new resource center is the easiest way to do so."
Green has been covered on news outlets from CNN to the Fusion Network, and has recently been covered on a two-page spread in the most recent issue of Robb Report. He lives in New York City, where he tutors full-time when not working on his SAT, ACT, and college curriculum.
###