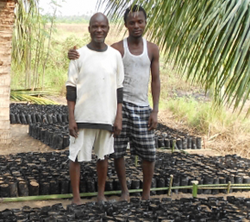 I can't think of a better use for all the old shoes that are just lying in your closet
Franklin Lakes, NJ (PRWEB) March 29, 2014
Many people ask, "what happens to all the shoes?" The shoes are sold in major metro areas to vendors who in turn create jobs and help improve the quality of life in cities. The vast majority of Africans cannot afford new shoes. The proceeds from the sale of the shoes provides training and tools to the poorest rural farmers.
In addition to funding several life-changing efforts, collecting used shoes and selling them to locals in Ghana provides additional environmental benefits. So many shoes sit in dark closets, forgotten and never worn, and then end up in landfills.
Reusing these shoes further promotes the global efforts to reuse and recycle.MORE Systems are micro-enterprise models designed to increase small farm productivity while creating a positive regional impact. Modular MORE farms are adaptable to almost any climate and allow for constant growth while accommodating periodic economic shifts and climate change. MORE Systems utilize portable components. Developed MORE farms are expandable sustainable eco-loops.
MORE Systems leave no negative foot print and require almost no energy import. Organic means no chemicals of any kind nor genetically modified seeds. All organic fertilizers and pesticides are locally sourced. Solar power eliminates the need for fossil fuels. Farm produced bio-fuels will sustain expansion.
A MORE Farm is an integrated expandable sustainable eco-loop natural living system. MORE Systems are small business micro-farm environments. Each modular system within each MORE Farm enhances the overall environment. East MORE Farm assists in the healing of the natural and global environment. The MORE Systematic approach mimics nature.