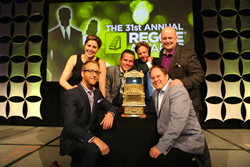 New York, NY (PRWEB) March 28, 2014
Many of the world's leading brands shared the stage with several rising new stars during the Brand Activation Association (BAA) 2014 REGGIE Awards Ceremony March 27th in Chicago.
Representing the best-of-the-best brand activation campaigns across a wide variety of categories, the world's leading brands and their marketing agencies were celebrated for outstanding achievements in making the cash registers ring. Such iconic brands as Kraft, McDonald's, American Express, Procter & Gamble, Microsoft, Coca Cola, AT&T and Frito Lay were joined in the Winners' Circle by such leading marketing agencies as FCB (formerly Draftfcb), Arc Worldwide/Leo Burnett, Catapult, The Marketing Arm, Momentum Worldwide and Havas.
A distinguished panel of industry judges selected the REGGIE Award Winners in 23 different categories from among hundreds of entries. A special panel of judges then selected the grand-prize winner, the Super REGGIE, from among the 23 Gold winners.
WestJet Captures SUPER REGGIE & 4 Gold REGGIE Awards
The big winner of the 2014 REGGIE awards was the WestJet Christmas Miracle: Real-Time Giving campaign. The multi-faceted campaign featured a digital kiosk in the Toronto airport, and when passengers to Calgary scanned their boarding passes a virtual Santa Claus would ask them what they wanted for Christmas. When they arrived at their destination a couple hours later and were waiting for their bags at the carousel, much to their surprise the gifts they had asked Santa for in Toronto came flowing down the conveyor belt.
All their gift wishes from color TVs and tablet computers to warm socks and toy trains were gift-wrapped and waiting for them along with Santa Claus. One hundred and seventy-five WestJet volunteers purchased and gift-wrapped all the presents while the passengers were en route. The resulting video generated more than 35 million impressions on YouTube, over 1,600 media stories, more than 30,000 new subscribers to the company's website and revenue increased during the promotion by 86% over 2013.
The incredibly innovative campaign also won the Gold Award in the Content Marketing, International/Global, National Consumer (budget under $3 million) and Social Media Campaigns categories.
There were 14 other multiple award-winning brands including Frito Lay (4 awards including 2 gold), Procter & Gamble (3 awards, 2 gold), Gillette/Warner Bros. (3 and 1 gold), The Coca Cola Company (3 awards), American Express (2 gold) and several other brands that captured two awards each. There were also 12 multiple award-winning marketing agencies including The Marketing Arm (6 awards, 1 gold), FCB (formerly Draftfcb) (5 awards, 1 gold), Catapult (4 awards, 2 gold), Momentum Worldwide (4 awards, 2 gold), Arc Worldwide/Leo Burnett (3 gold) and several agencies that won two awards each.
"The judges were blown-away by the outstanding creativity of this year's REGGIE Award entries," said Bonnie Carlson, BAA President and CEO. "In keeping with the mission of the REGGIE awards to make the cash registers ring, the winning campaigns also generated outstanding results for their brands."
A complete list of all REGGIE winners is available at: http://www.baalink.org/reggiewinners2014 and REGGIE case histories are available at http://www.baalink.org/resources/reggie-case-studies.
All 69-award winners received a beautiful cash register-themed award to commemorate the occasion. The SUPER REGGIE winners received a 50lb antique cash register to commemorate their BIG win.
Complete REGGIE Awards information can be found at http://www.baalink.org/events/reggie-awards, or by contacting Marybeth Petescia at mpetescia(at)baalink(dot)org, or call 212-340-0092.
About BAA
The Brand Activation Association (BAA) -- the rebranded Promotion Marketing Association (PMA) - is the national non-profit trade association dedicated to the industry of marketing disciplines that motivate behavior, activate response and build brands. Representing over $750 billion dollars in sales, brand activation disciplines include all the myriad connection points with the consumer, such as digital/mobile/social media marketing, shopper/retailer marketing, experiential marketing, marketing law, promotion marketing, multi-cultural and niche marketing, cause marketing, and sports, entertainment and sponsorship marketing. Founded in 1911, the BAA has championed this industry through its combination of research, education, advocacy, and collaboration opportunities. The organization's membership is comprised of Fortune 500 companies; top marketing agencies, law firms, retailers, service providers and academia, representing thousands of brands worldwide. The BAA is headquartered in New York City with its affiliate, the BAA Educational Foundation, Inc. For more information about BAA visit http://www.baalink.org.
###