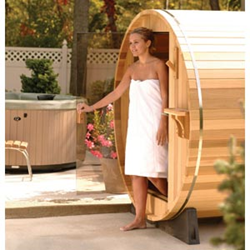 We are honored to offer Harvia's high-quality product with our American-made Almost Heaven Saunas
Renick, WV (PRWEB) March 29, 2014
The West Virginia-based Almost Heaven Saunas and the Finnish company Harvia, the world leader in sauna heaters and sauna rooms, announced expanded sales collaboration in a meeting in Finland earlier this month.
Rick Mouw, president of Almost Heaven Saunas, toured the Harvia factory in Finland and discussed increased distribution of Harvia products in a meeting in early March. The company has purchased a select number of Harvia heaters over the past year for use in the Almost Heaven barrel sauna and indoor models. Now Almost Heaven Saunas will distribute Harvia indoor and outdoor sauna rooms throughout the United States.
"We are honored to offer this high-quality product with our American-made Almost Heaven Saunas," stated Mouw. "Harvia Oy is a world leader in the manufacture of high quality sauna heaters, sauna rooms, and support products," Mouw said. "Its state-of-the-art manufacturing processes and a commitment to quality and innovation make Harvia the world leader in sauna heaters, sauna rooms, and accessories."
Saunas have become increasingly popular in the United States in recent years, Mouw said. He attributed this to Americans slowly learning the health benefits of traditional sauna use. "Americans continue to look for ways to improve quality of life, and traditional saunas provide many health benefits, including weight loss." Mouw explained that the high temperature that is attained in a wet sauna causes your heart rate to accelerate and your metabolism to increase. This aerobic effect speeds your calorie burn and causes you to lose weight in the process. Some studies claim that 20 to 30 minutes in a sauna burns as many calories as 60 minutes of moderate exercise. Other benefits include lower blood pressure, increased circulation, improved skin tone, eased joint and muscle pain, and a feeling of total well-being.
Almost Heaven Saunas is known for its high quality outdoor barrel saunas, which it pioneered almost 40 years ago. The saunas are hand-crafted in West Virginia and sold worldwide through distribution networks. The increased product offering from Harvia will allow the company to expand its reach to the indoor sauna market with saunas manufactured in Finland.
"Harvia builds some amazing sauna designs," stated Mouw. "We can substantially increase our product lineup by offering Harvia saunas, and we are pleased to be associated with such a fine company and product."
The company plans to begin U.S. distribution of select Harvia models in the third quarter of 2014.